Marjorie Taylor Greene: People Blocking Ivermectin Are 'Guilty of Murder'
Representative Marjorie Taylor Greene, a vocal advocate of the use of ivermectin to treat COVID-19, said people who blocked its use have "blood on their hands" for those who died of COVID-19.
Ivermectin gained popularity during the pandemic and some doctors have had anecdotal success using it. However, the Food and Drug Administration (FDA) hasn't authorized ivermectin as a COVID-19 treatment, so some hospitals and physicians have refused to prescribe it, fueling a tense debate between those who believe in its power and those who don't see it as an effective treatment for COVID-19.
During a Wednesday interview with Alex Jones on Info Wars, Greene pushed ivermectin as being more beneficial than vaccines and lambasted those who blocked the use of the drug, which is often used for parasitic infections.
"It's Dr. [Anthony] Fauci and anyone at the [Centers for Disease Control and Prevention] or anyone involved that stopped life-saving treatments and therapies and people died, well I think they're guilty of murder," Greene told Jones.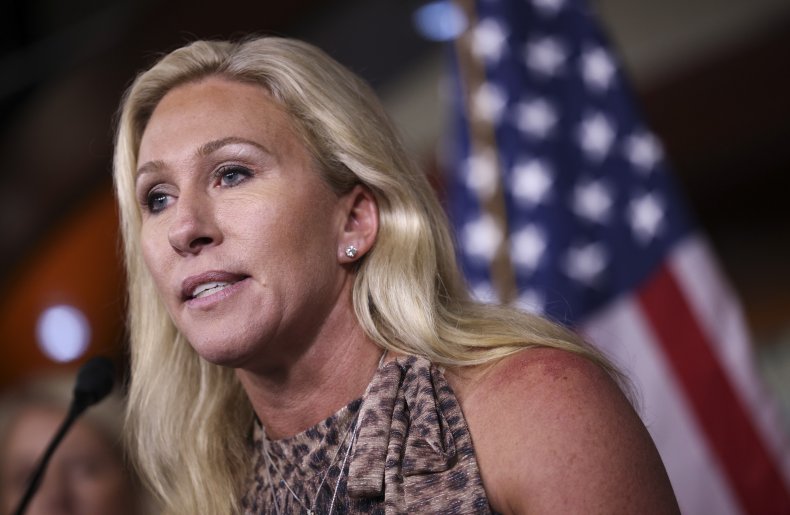 Greene added that people who stopped prescriptions of ivermectin or refused to allow hospitalized patients to take it if their family requested it has "blood on their hands."
Ivermectin gained popularity during the pandemic and some prominent people, such as Joe Rogan and Aaron Rodgers, cited the drug as part of their at-home recovery. However, for others, the drug was a last resort.
Last year, Pete Lopez's family filed a lawsuit to try to force a Texas hospital to administer ivermectin to him while he was being treated for COVID-19. His granddaughter, Gabrielle Snider, told KTRK at the time that doctors had exhausted all treatment options, so the family was taking a "why not?" approach to using ivermectin since there was nothing else that could be done.
Other families have also sought legal recourse to force doctors' hands when it comes to the drug with mixed results. Ralph Lorigo, who has represented several families in these cases, previously told Newsweek that he doesn't believe families should have to hire a lawyer for hospitals to administer the drug if a patient wants it.
The use of ivermectin has become a divisive issue during the pandemic. While some dismiss it as a theory pushed by those who deny the virility of COVID-19 and the benefit of vaccines, others have argued that America needs to be using every potential tool to help save lives and that patients should be able to choose their care plan.
Officials maintain that vaccines are a person's best chance at surviving COVID-19 if they get sick, a statement Greene has vehemently refuted. She continues to push the message that vaccines are useless because they do not fully prevent a person from contracting COVID-19 and that the real focus should be on therapeutics, not increasing vaccinations.