Marjorie Taylor Greene's Personal Twitter 'Banned' as She Faces Expulsion Vote
The personal Twitter account of Rep. Marjorie Taylor Greene (R-GA) was suspended on the day a resolution has been introduced to expel her from Congress.
Greene's press secretary confirmed to Newsweek on Friday the congresswoman's personal account had been suspended.
A statement from Greene's campaign team said: "On the day Democrats in Congress are moving to expel Congresswoman Marjorie Taylor Greene, Twitter has banned her personal account of 380,000 followers without explanation.
"At around 1:00AM, in the dark of night, Twitter chose to silence a sitting member of Congress facing an unprecedented political attack by House Democrats."
The statement said the account had been blocked for 12 hours due to an "alleged 'violation.'"
Greene also faced a Twitter suspension in January.
A Twitter spokesperson told Newsweek on Friday the action was made in error and had since been reversed.
"We use a combination of technology and human review to enforce the Twitter Rules across the service. In this case, our automated systems took enforcement action on the account referenced in error. This action has been reversed, and access to the account has been reinstated," a statement said.
On Friday, Rep. Jimmy Gomez (D-CA) introduced a resolution to expel Greene.
As he did so, he said: "I believe some of my Republican colleagues, and one in particular, wish harm upon this legislative body.
"I'm not saying this for shock value. It's the conclusion I drew after a member of Congress advocated violence against our peers, the Speaker, and our government.
The resolution had 72 Democratic co-sponsors as of Friday, a spokesperson for the congressman told Newsweek.
On the timing for a vote, a spokesperson for Gomez said: "Congressman Gomez formally introduced his privileged resolution this morning. Regarding timing, all I can say at this point is the congressman reserves his right to call for a vote on his resolution at any point during this session and will be working with House leadership to determine the most appropriate time to take action."
In a press release in January, Gomez referred to social media activity from Greene.
In this release, he said: "Her very presence in office represents a direct threat against the elected officials and staff who serve our government, and it is with their safety in mind, as well as the security of institutions and public servants across our country, that I call on my House colleagues to support my resolution to immediately remove Congresswoman Marjorie Taylor Greene from this legislative body."
Greene was removed from her committee positions in February after a House vote.
This came following controversy over social media actions prior to her time in Congress.
Greene previously interacted with content linked to the QAnon conspiracy theory and theories about school shootings. She also interacted with posts which advocated violence against lawmakers.
She rejected conspiracy theories in comments made on the House floor ahead of the vote.
"These were words of the past and these things do not represent me," Greene said. "They do not represent my district and they do not represent my values."
Newsweek has asked Greene's office for further comment on the resolution to expel her.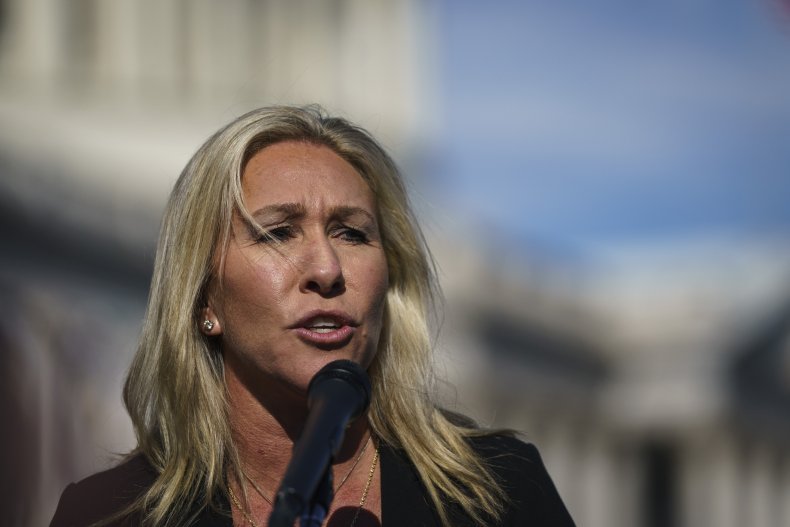 Update 03/19/2021, 1:30 p.m. ET: This page has been updated with a statement from Twitter and altered accordingly following the suspension being lifted.