Marjorie Taylor Greene Plans to File Impeachment Articles Against Biden
Georgia Rep. Marjorie Taylor Greene on Wednesday said that she plans to file articles of impeachment against President-elect Joe Biden shortly after he is inaugurated.
"I would like to announce on behalf of the American people, we have to make sure that our leaders are held accountable. We cannot have a president of the United States that is willing to abuse the power of the office of the presidency and be easily bought off by foreign governments, foreign Chinese energy companies, Ukrainian energy companies," Greene said while appearing on Newsmax's Greg Kelly Reports. "So on January 21, I will be filing articles of impeachment on Joe Biden."
When pressed about how filing the articles of impeachment will work, Greene brought up the recent violent riots at the U.S. Capitol when supporters of President Donald Trump breached the building in protest of Congress certifying state's electoral votes, saying that "I can't imagine people in this country being so fearful of a future of a Biden presidency that they may be willing to commit violence like they did at the Capitol."
She continued, "I do not condone that violence. The American people need hope, they need to know that there are Republicans in Congress that are willing to stand up and fight for them regardless of being a minority, regardless of having all odds against us, against me."
While it is unclear what charges Greene plans to use against Biden in the impeachment articles, Greene stated that "Joe Biden is on record, on the phone, saying that he will withhold a billion dollars of foreign aid if he didn't get his way with these deals with his son."
Despite Greene's comments, a fact-check from USA Today states that this claim is false and instead, the then–vice president leveraged foreign aid to persuade Ukraine to "to oust its top prosecutor as part of anti-corruption efforts endorsed by other international players that were unrelated to his son."
Greene's comments about attempting to impeaching the president-elect come just a day after the House voted in favor of impeaching Trump for the second time for "incitement of insurrection" as many blamed his rhetoric for the riots at the Capitol.
On Thursday morning, Greene spoke about her plan to file impeachment articles again while appearing on Newsmax's National Report, and said that the had already spoken with "quite a few" of her Republican colleagues before her announcement on Wednesday.
"The Republican Party needs to change things up. The silent majority in this nation is fed up with being the target and not having representatives, not having people in Congress stand up for them," she said, adding that the Democrats' "plan is to tear this country down with socialism."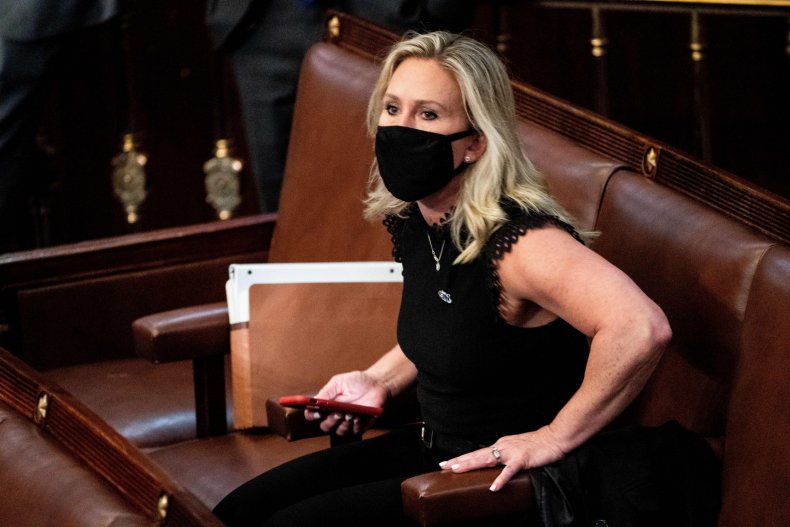 During her appearance on the National Report, she also spoke about Trump's impeachment, criticizing Democrats once again, stating that "they have no intention of creating unity, they have no intention of healing, they only have full scale plans to make everyone lay down, sit down and shut up and just go along with whatever they want to do, which is censorship."
Following the House voting in favor to impeach Trump, the trial will move to the Senate, where the vote will need 17 Republican senators to reach the required two-thirds majority to convict.
Newsweek reached out to Greene and Biden's transition team for comment but did not receive a response in time for publication.