Marjorie Taylor Greene Pushes Bill Gates Monkeypox Conspiracy
Republican U.S. Representative Marjorie Taylor Greene of Georgia has promoted a conspiracy theory that claims billionaire Bill Gates is hoping to "make a lot of money" from an outbreak of monkeypox.
During the Thursday night edition of her Facebook Live show MTG:Live, Greene baselessly connected the current monkeypox outbreak—which has consisted of fewer than 100 cases globally including at least one confirmed case in Massachusetts and one suspected case in New York—and Gates, the Microsoft founder who has often featured as a central character in right-wing conspiracy theories.
To support the connection, the congresswoman shared a video clip from a November 2021 Gates interview with Jeremy Hunt, chair of the U.K.'s Health and Social Care Committee. Gates did not mention monkeypox in the interview but warned that governments should prepare for future pandemics and urged the World Health Organization (WHO) to invest $1 billion per year to form a related task force.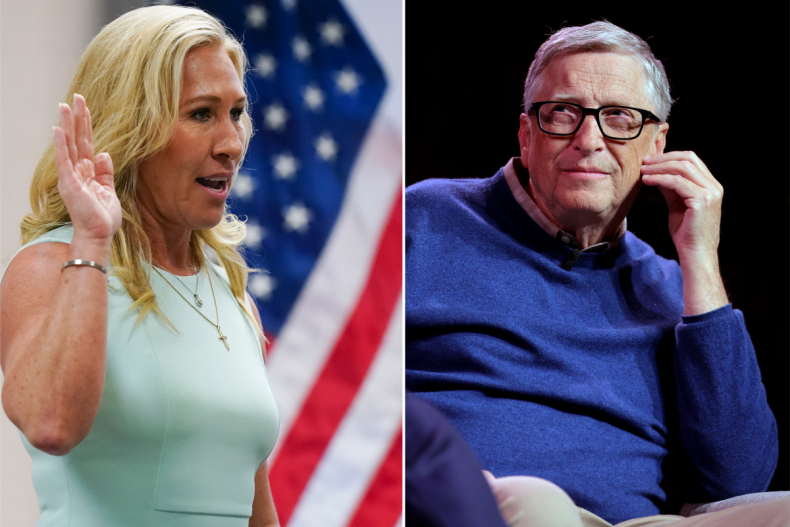 "Bill Gates, I want to remind everyone, he wants to grow fake meat in a Petri dish and he wants us to drink poop water," Greene said after the clip played. "So, I don't know why we're letting Bill Gates decide our health decisions... I'm not drinking his Petri dish fake meat and I'm not drinking his poop water."
"Bill Gates is very concerned about monkeypox because this is something, apparently, he can make a lot of money off of," she continued. "Him and his other buddies. You know, all the Democrat donors, that is."
Greene went on to note that the U.S. government recently purchased supplies of a smallpox vaccine that can be used to prevent both smallpox and monkeypox, which are related viruses. The government did exercise an option on an existing contract this week to purchase $119 million worth of vaccine.
However, a spokesperson for the Department of Health and Human Services (HHS) told Axios on Friday that the purchase was "unrelated to specific events" and instead "part of a standard and ongoing preparedness" effort to respond to a "potential smallpox emergency."
Greene insisted that Gates "wants you all to be injected" with the new vaccine because "COVID-19 has gotten old" and the public is "done with the vaccine game" amid the current pandemic. She warned that the media and an undefined "they" would attempt to "terrify" the public with images of "children with this all [monkeypox] over their faces."
"And then they're going to tell you, you have to wear a mask because if you get close to anybody's face and they spit on you you're going to contract this horrible, terrifying disease, monkeypox," Greene said. "But don't worry... I know you have a Dr. Fauci pillow that you sleep with every night."
"We need to order your Bill Gates pillow," she continued. "You should have a body pillow of Bill Gates and you can cuddle with it every night," she added. "Because Bill Gates is gonna save the day."
Before speaking explicitly about Gates, Greene informed viewers that "pandemics didn't become a thing in 2020" and surmised that "it sounds like they may have been a plandemic."
Newsweek reached out to Gates for comment.