Marjorie Taylor Greene Pushes for Vote on Fire Fauci Act Despite Slim Chances of Success
Representative Marjorie Taylor Greene is making what's likely a futile attempt to get members of Congress to put their feelings about Dr. Anthony Fauci, director of the National Institute of Allergy and Infectious Diseases (NIAID), on the record.
Greene's "Fire Fauci Act" has been sitting in committees since its introduction in April and on Sunday, she announced she's starting a discharge petition in the hopes of bringing it to the floor for a vote. Discharge petitions allow for a vote without reports from committees, but their success is dependent on getting majority support, which Greene's unlikely to have in the House.
"Holding government accountable for lies, deceit, corruption, and deaths of millions of people should be a priority and reason for every Member of Congress to sign my discharge petition," Greene posted on Twitter on Sunday.
The "Fire Fauci Act," Greene's most co-sponsored bill, wouldn't actually terminate Fauci as the director of the NIAID. Instead, it would bring the position's salary down to $0 until someone new took over the role and would spark an audit of Fauci's emails, policy memoranda and financial transactions from October 1, 2019, until December 31, 2021.
Greene, a vocal critic of Fauci, criticized him in the bill for shifting his stance on masks and for pushing combinations of public health measures and vaccinations, not one or the other. In the early days of the pandemic, Fauci advocated against universal mask wearing but later advised that everyone wear face coverings. While it's been a source of criticism, Fauci dismissed accusations he's a flip-flopper and has said that his opinions have changed as more information about the virus has become available, something he said anyone who values science should do.
Fauci has advised every president since Ronald Reagan and has served as director of the NIAID for nearly 40 years. Thrust into the spotlight during the pandemic, Fauci's found himself on the receiving end of accusations that he's untrustworthy or even a liar and a proponent of government control.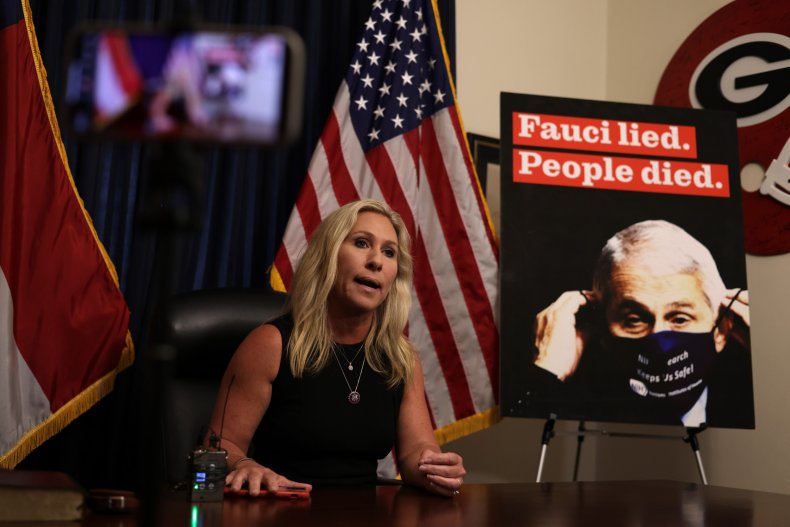 A recent email from the National Institute of Health (NIH) confirmed that a NIH-funded study in Wuhan, where the virus is believed to have originated, found mice infected with one kind of bat coronavirus became sicker than those that were infected with a different variant. Critics of Fauci capitalized on the letter as proof the NIH funded gain-of-function research, a claim the NIAID director has repeatedly denied.
The NIH letter never mentioned the phrase gain-of-function research and Fauci denied the experiment fit the definition of the controversial research. Fauci acknowledged during an interview with ABC News' George Stephanopoulous that there are "people who interpret it that way" but added that it does not constitute gain-of-function under the guidance's framework.
The NIH's letter fueled calls for Fauci's termination, which were only amplified after reports that a NIH-grant to a lab in Tunisia was used for torturing beagle puppies. The White Coat Waste Project, a taxpayer watchdog group, reported that researchers locked the dogs in cages with sandflies that ate them alive and injected them with disease-causing parasites.
In a letter to Fauci, a group of bipartisan lawmakers expressed "grave concerns" about the report and demanded information regarding the use of dogs in drug testing. The news helped prompt "Arrest Fauci" to trend on Twitter, and Greene said only a "monster" could fund the "cruel experiments."
Greene's Fire Fauci Act has often garnered additional cosponsors amid criticism of the NIAID director, but as of Monday, her bill continued to sit at 16 cosponsors, about 7 percent of all the Republicans in the House. To pass the bill, Greene would need a unified Republican caucus, plus the support of four Democrats.
Newsweek reached out to Representative Marjorie Taylor Greene for comment but did not receive a response in time for publication.