Marjorie Taylor Greene Rebukes Vaccine Passports as 'Biden's Mark of the Beast'
Representative Marjorie Taylor Greene is challenging the potential launch of a "vaccine passport" program that would allow inoculated Americans to prove they've received a coronavirus shot before entering businesses and venues that have been closed during the pandemic.
"They are actually talking about people's ability to buy and sell linked to the vaccine passport," the Georgia Republican tweeted. "They might as well call it Biden's Mark of the Beast."
The "Mark of the Beast" phrase comes from a passage from the Book of Revelation and is often considered a reference to Satan or the Antichrist. In recent months, the Mark of the Beast conspiracy theory that says receiving a COVID-19 vaccine is equivalent to pledging allegiance to the devil has gained traction among the QAnon and anti-vaccine communities.
Greene's comments came after The Washington Post reported that President Joe Biden's administration is working with private companies and groups to develop a credential system that would let vaccinated Americans enter concert venues, stadiums, movie theaters, offices and other businesses.
The president signed an executive order shortly after entering office in January that directed agencies to assess the feasibility of linking coronavirus shots to vaccine cards.
Andy Slavitt, the acting director for the Centers for Medicare and Medicaid Services, said during a White House COVID-19 briefing on Monday that "this is going to hit all parts of society, and so naturally, the government is involved.
Slavitt added, "But unlike other parts of the world, the government here is not viewing its role as the place to create a passport, nor a place to hold the data of citizens. We view this as something that the private sector is doing and will do. What's important to us, and we're leading an interagency process right now to go through these details, are that some important criteria be met with these credentials."
U.S. and international airline trade organizations, airline labor unions and the Chamber of Commerce have been among those lobbying for the vaccine passports, according to reports. Earlier this month, two dozen groups sent a letter to White House coronavirus response coordinator Jeffrey Zients calling for the creation of temporary credentials that would let travelers show they have been tested and vaccinated.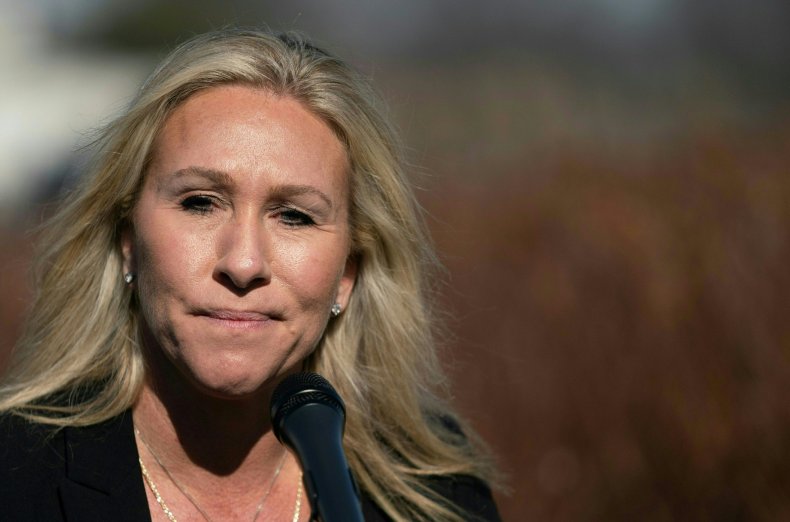 In a series of Twitter posts written Monday on the matter, Greene called on Georgia to be the next state to ban vaccine passports—following in the footsteps of Florida Governor Ron DeSantis.
DeSantis, a Republican, announced on Monday that he would take executive action against such a credential system in his state over privacy concerns.
"It's completely unacceptable for either the government or the private sector to impose upon you the requirement that you show proof of vaccine to just simply be able to participate in normal society," he said during a press conference at the Florida Capitol.
Greene also hit out at the idea, calling it "corporate communism" and arguing that companies that do it will be hit with legal challenges.
"The private companies that do not mandate vaccine passports will have more customers and money than they can comprehend," she tweeted. "The Corporate Communists will be committing HIPPA violations and will have more lawsuits than they can comprehend." Greene was referring to the Health Insurance Portability and Accountability Act.
Newsweek has reached out to the White House for their response to Greene's comments but did not hear back before publication.