Marjorie Taylor Greene Reverses Course on Spy Balloons, Calls for Probe
Representative Marjorie Taylor Greene called for an investigation into former President Donald Trump's defense officials as she walked back claims about Chinese surveillance balloons being "fake."
On Monday, Greene suggested that there was breach in command at the Pentagon under Trump after it was reported that three Chinese spy balloons entered U.S. airspace during his administration.
"If it's true the Pentagon purposely did NOT tell President Trump of Chinese Spy Balloons during his administration then we had a serious breach in command during the Trump admin," the Republican congresswoman tweeted. "The POTUS is the Commander in Chief. We must investigate and hold accountable those who broke rank."
Shortly after the Biden administration shot down the balloon detected last week, it was revealed by the Pentagon that this is not the first Chinese object to fly over the U.S. in recent years. Defense officials said that that there had been balloons in the past, but that they went undetected because they did not fly over the continental U.S. for such an extended duration of time.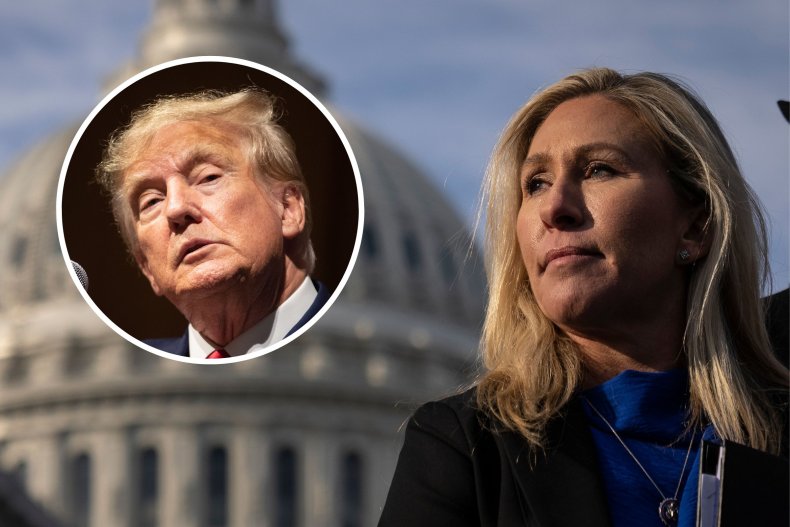 Just a day before she called for the probe, Greene claimed that the latest revelation from the Pentagon was "fake" and she accusing "propagandists" of making up reports of surveillance balloons being discovered during the Trump presidency.
"This is FAKE," Greene tweeted on Sunday, in response to the Pentagon's confirmation that Chinese spy balloons flew over the U.S. during the time Trump was in office. "Here are the facts: Biden and his regime propagandists are trying to give themselves cover for being incompetent fools."
However, Greene appeared to walk back on her denial after Fox News reported that at least three balloons were discovered after Trump left the White House.
"Defense officials now claim that Chinese Spy Balloons briefly flew over the U.S. during the Trump admin, but if true, WHY is this just now being reported?" she tweeted on Monday.
Newsweek reached out to Greene and the Pentagon for comment.
Trump and a number of his former top national security and defense officials have maintained that the passing of these objects "never happened."
"China had too much respect for 'TRUMP' for this to have happened," Trump wrote on Truth Social on Sunday.
Slamming Greene for calling their report of the Trump-era balloons "fake," MeidasTouch, a liberal political action committee (PAC), noted that the Georgia Republican previously settled a lawsuit with the company, resulting in her paying them $10,000.
The PAC sued her in 2021 after she blocked MeidasTouch on Twitter, contending that she violated their First Amendment rights by doing so after the account posted critical remarks about her.