Marjorie Taylor Greene Hits Out As Vikings Coach Faces Job Loss For Refusing Vaccine
Representative Marjorie Taylor Greene has accused the Minnesota Vikings of "discrimination" after the football team's assistant coach faced being ousted for refusing the coronavirus vaccine.
Rick Dennison has been offensive line coach/run game coordinator for the past two seasons but he is now reportedly out because he did not want to get the jab, according to ESPN.
NFL rules require the vaccine for all Tier 1 staff, which includes coaches, front-office workers, equipment managers, and scouts.
While players are not required to have the jab, the ones who are vaccinated avoid strict protocols that unvaccinated players must face in training and throughout the season.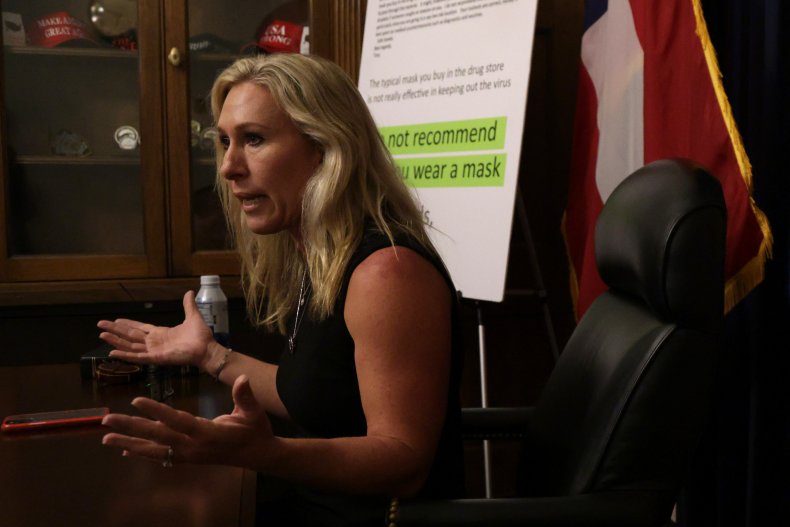 Greene, who has ramped up her anti-vaccination rhetoric, shared the ESPN article about Dennison, adding the message, "This is WRONG!"
"This is discrimination in the workplace against a coach based on him making a medical choice about his body and his health about a NON-FDA approved vaccine," she wrote, revisiting a theme she has pushed about the jabs coming under the Food and Drug Administration's (FDA) emergency use authorization.
The Pfizer, Moderna and Johnson & Johnson vaccines used in the U.S. are not fully FDA approved but many studies have proven that they work.
"My bill, We Will Not Comply Act, gives people the ability to sue based on masks/vaccine discrimination," the Georgia lawmaker added, referring to the legislation she introduced in April she said aimed to ban vaccine passports and "prevent discrimination against the unvaccinated."
Greene has been suspended from Twitter for spreading misinformation about COVID vaccines.
This week, she refused to disclose her COVID vaccination status when asked by a reporter calling it a violation of my HIPAA rights," referring to the law that restricts how health information can be disclosed.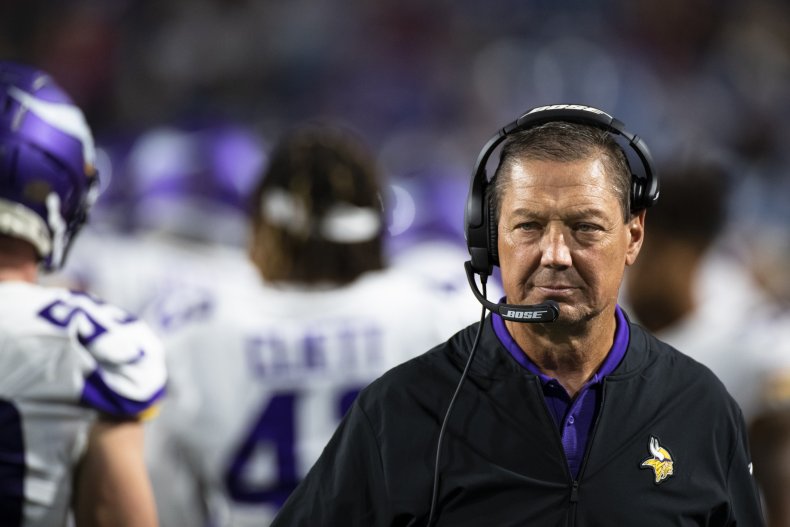 The NFL said in a memo this summer that any unvaccinated Tier 1 staff member must give a valid religious or medical reason. Without Tier1 status, coaches cannot go on the field or have direct interaction with the players.
The Vikings said in a statement to the media that it was continuing to hold talks with Dennison "regarding the NFL-NFLPA COVID-19 Protocols for training camp and preseason games."
"At this time, Coach Dennison does not have an exemption to the vaccination requirements of those protocols," the Vikings statement said, "We will adhere to the requirements of the protocols and of applicable law."
It is unclear if Dennison has been demoted, fired, or quit due to the NFL's latest protocols, People reported. Newsweek has contacted the Vikings for comment.
Meanwhile, New England Patriots co-offensive line coach Cole Popovich, also will not be with his team due to a decision related to the COVID-19 vaccine and NFL guidelines, ESPN reported.