Marjorie Taylor Greene Says AOC and Her Have Agreed to Debate The Green New Deal
Rep. Marjorie Taylor Greene (R-Ga.) announced that she had agreed to a debate on the Green New Deal with her ideological opposite Rep. Alexandria Ocasio-Cortez (D-N.Y.) on Wednesday.
Greene made the announcement in tweet that included a photo of her and Ocasio-Cortez apparently speaking on the House floor. Ocasio-Cortez and Sen. Ed Markey (D-Mass.) relaunched the progressive environmental policy resolution on Tuesday, also reigniting the ire of conservatives opposed to the policies like Greene.
"I'm glad I ran into you today @AOC to plan our debate about the Green New Deal," Greene tweeted. "After I finish reading all 14 pages, like we agreed, I'll schedule time for our debate. #MTGvsAOC"
Although Greene said the debate would be scheduled when she completed reading the 14-page document, there were no further details about when or where it might take place. Ocasio-Cortez has not yet publicly commented on Greene's announcement.
Newsweek reached out to the office of Ocasio-Cortez for comment.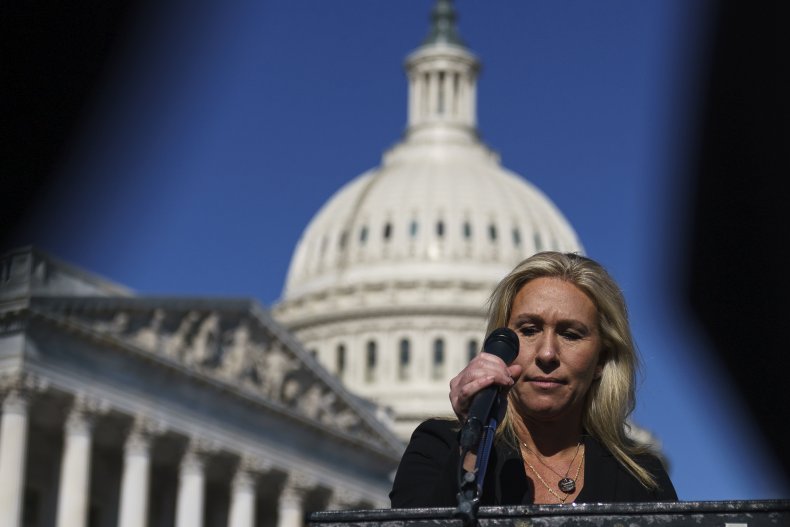 Hours before Greene announced her plans to debate Ocasio-Cortez, she insisted that the Green New Deal would "destroy" the U.S. energy industry, while claiming that the country did not rely on foreign fossil fuel resources under former President Donald Trump.
"@AOC's Green New Deal will destroy the US's oil and gas industry just after we became energy independent from President Trump's #AmericaFirst policies," tweeted Greene. "Our ability to export oil and gas gives the US great negotiating power in the world. China and Russia love the GND."
Ocasio-Cortez said that the resolution had "three core components: jobs, justice and climate" in a statement announcing its reintroduction on Tuesday. She described climate change as the result of industries "trampling" on the rights of indigenous people and the cause of racial justice during a press conference on the same day.
"It is going to be an all-hands-on-deck approach, and we refuse to leave any community behind," Ocasio-Cortez said. "The climate crisis is a crisis born of injustice. And it is a crisis born of the pursuit of profit at any and all human and ecological cost."
"The trampling of indigenous rights is a cause of climate change," she added. "The trampling of racial justice is a cause of climate change ... we are allowing folks to deny ourselves human rights and deny people the right to health care, the right to housing and education."
The "Green New Deal" has been used a moniker for several different environmental policy proposals in both the U.S. and abroad for more than a decade. The resolution from Ocasio-Cortez and Markey was first introduced in February 2019, about a month after Ocasio-Cortez first entered Congress.
Although Democrats currently control Congress and the White House, the bill is unlikely to pass soon. In the uncertain event that the legislation passes in the House, it would need to overcome a 60-vote threshold to avoid a filibuster in the Senate by convincing at least 10 Republicans to support it. In addition, President Joe Biden has said that he does not support the resolution.