Marjorie Taylor Greene Says Ayanna Pressley Owes Kyle Rittenhouse Apology for Tweet
Representative Marjorie Taylor Greene called for Representative Ayanna Pressley to apologize to Kyle Rittenhouse after he was found not guilty on Friday in last year's fatal shooting of two people in Kenosha, Wisconsin.
The day after the August 2020 shooting, Pressley posted on Twitter that Rittenhouse is a "white supremacist domestic terrorist." She's faced some criticism for the tweet, given that Rittenhouse and the victims are white, and some have accused her of defaming Rittenhouse and creating the potential for an unfair trial.
After the verdict was rendered on Friday, Greene posted on Twitter that Pressley owes the 18-year-old an apology.
"We will continue to maintain that in America, defendants are innocent until proven guilty. Kyle Rittenhouse has been found not guilty," Greene wrote on Twitter. "His white skin doesn't make him a white supremacist and that AR-15 saved his life."
Newsweek reached out to Pressley for comment but did not receive a response in time for publication.
Rittenhouse, a former youth police cadet, traveled to Kenosha to allegedly help business owners protect their property during civil unrest. Riots broke out in the city after a white police officer there shot Jacob Blake, a black man.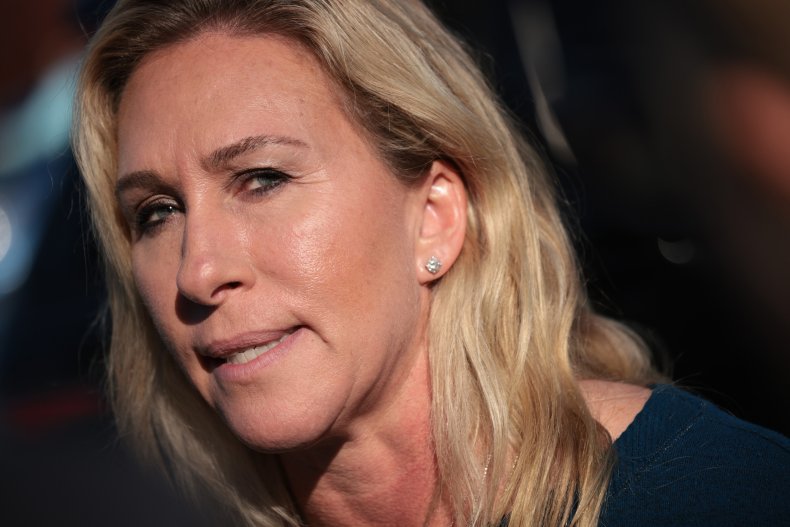 The 18-year-old Rittenhouse, who was 17 at the time of the shooting, faced multiple charges that, if convicted, could have landed him in prison for life. His attorney argued that he acted in self-defense and the men he fatally shot tried to steal his firearm and hit him with a skateboard.
Wisconsin Lieutenant Governor Mandela Barnes, who is running for Senate, said in a statement that many people "dreaded" the not guilty verdict. She added that people should expect the presumption of innocence until proven guilty, but said the standard is "not always applied equally."
"We have seen so many black and brown youth killed, only to be put on trial posthumously, while the innocence of Kyle Rittenhouse was virtually demanded by the judge," Barnes said.
The divisive trial garnered national attention and while the guilty verdict was condemned by some, others celebrated the outcome. Former Wisconsin Governor Scott Walker said those who know what "actually happened" in Kenosha "assumed" the jury would declare Rittenhouse not guilty.
Ahead of the announcement of the jury's decision, Wisconsin Governor Tony Evers activated the National Guard and pleaded for people to be calm. After the verdict was read, Evers asked anyone who was exercising their right to free speech should do so "safely and peacefully."
He added that a verdict wouldn't bring back the lives of Anthony Huber and Joseph Rosenbaum, who were killed in the shooting, or "heal the wounds or trauma" Blake and his family experienced.