Marjorie Taylor Greene Says Biden Administration 'Wants the Pandemic to Last Forever'
Georgia Republican Representative Marjorie Taylor Greene is speaking out regarding President Joe Biden and his handling of the pandemic.
On Friday, Greene was being interviewed by host Jenna Ellis from the online show, Just The Truth, which is run by Real America's Voice News. While on the show, she stated how the Biden Administration is doing everything possible to keep the pandemic going for specific reasons.
"They want the pandemic to last forever because they don't want the economy to recover," Greene said.
"They don't care about your kids' school and education."
Greene has been critical of President Biden in the last few months, specifically calling him a "communist." She reiterated these sediments during an episode of the War Room Pandemic show, ran by political strategist Steve Bannon which is also housed under Real America's Voice News.
"It's a regime, it's a communist regime," Greene said on the show. "It's been a communist takeover of our country, and it happened on January 21 and that is who Joe Biden is."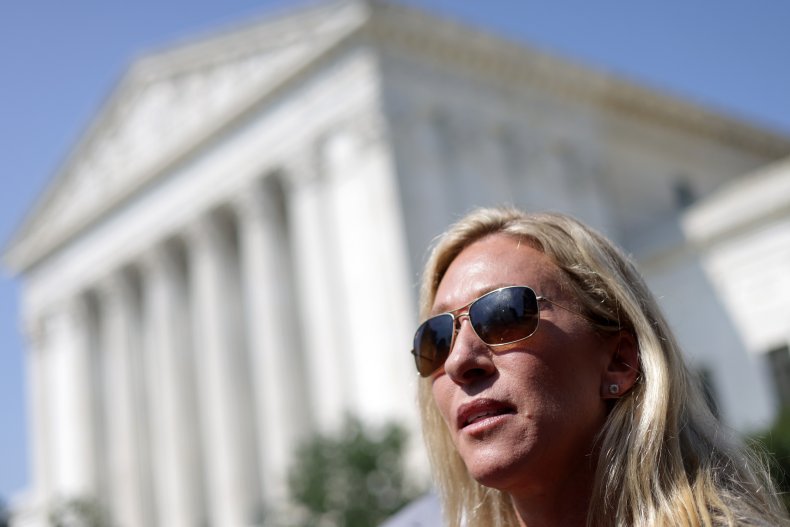 When Bannon challenged her on her comments, Greene simply said to "study the history."
Recently, Greene was banned from Twitter for 12 hours due to her comments regarding the COVID-19 vaccine.
On July 18, Greene stated the COVID-19 "was not dangerous for people under the age of 65 who are not obese." She also called the vaccine "controversial." Her comments were in response to a tweet made by Kentucky Republican Representative Thomas Massie, who said the military was considering compulsory vaccines for service members.
Twitter has started to regulate potential misinformation from being spread on the social media platform, especially when it comes to COVID-19.
"We've observed the emergence of persistent conspiracy theories, alarmist rhetoric unfounded in research or credible reporting, and a wide range of unsubstantiated rumors, which left uncontextualized, can prevent the public from making informed decisions regarding their health and puts individuals, families, and communities at risk," the company said in its policy against sharing COVID-19 misinformation.
"People who violate that policy are subject to escalating punishments known as strikes and could face a permanent ban if they repeatedly share misinformation about the virus," the statement continued.
Greene also spoke out recently regarding claims of voter fraud in the 2020 presidential election. She claimed President Biden didn't win the state of Georgia in a fair manner.
"Georgia was stolen, I know for a fact that President Trump won, none of us believe that Biden won Georgia," she said.
"I have stood up for the truth that I know to be true, and that's President Trump won our state. And I'm so proud to say it, I'll say it over and over again. They laugh at me, they scoff at me, they constantly make fun of me on every single level, and I just don't care," Greene said.