Marjorie Taylor Greene Says Congress 'Needs to Close' in Call Out of 40 House Republicans
Republican Georgia Representative Marjorie Taylor Greene has publicly called out 40 Republican House members who voted against her attempt to delay the passage of Democratic President Joe Biden's $1.9 trillion COVID-19 stimulus package.
Greene named the members in a public letter after her fourth attempt to prematurely adjourn the House. In the letter, she referred to the stimulus bill as "the $1.9 trillion Blue State Bailout."
"For the past year, most of America has been closed. If any place in America needs to close, it is Congress," her letter stated.
"Every day that the House of Representatives is open is another day with the Democrats' progressive wish list shoved down our throats," Greene continued. "As Republicans, we should use every single tool we have to stop this Hate America Socialist agenda. Every second, every hour, and every day we can stop radical Democrat policies, Republicans should do it."
Greene then listed the 40 House Republicans who voted against her motion to adjourn. Texas Representative Dan Crenshaw, Louisiana Representative Mike Johnson and Mississippi Representative Trent Kelly were listed, along with 37 other Republican representatives.
She accused the 40 representatives of "enabling [Democratic] policies that will destroy America" and said that they had put their personal schedules ahead of the wishes of those who put them in office.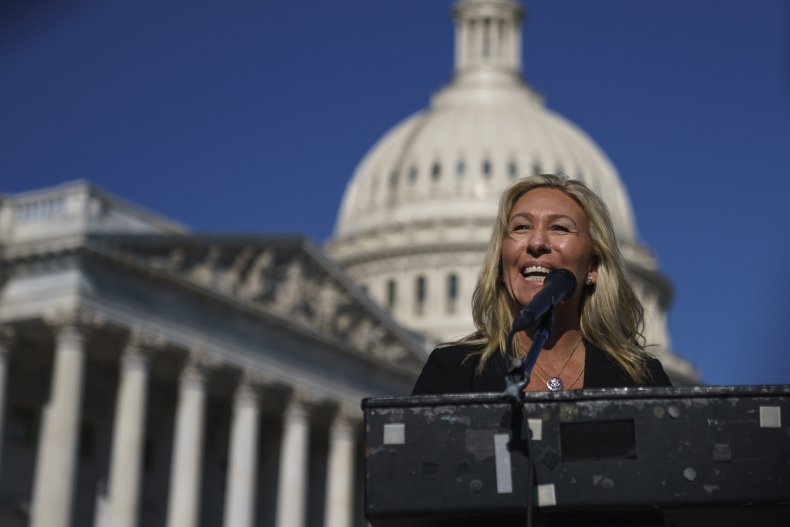 Greene's most recent attempt to prematurely adjourn the House was her fourth try in nearly two weeks. Each of Greene's attempts has been made in protest of Democratic legislation and comments introduced in the House. Each attempt has also disrupted congressional work by forcing House members to return to the floor to vote on it.
While no House Republicans opposed Greene's first motion to adjourn and only two opposed her second motion, 18 House Republicans voted against her third motion. The increasing number of members from her own party voting against her reflects a growing Republican distaste for her disruptive efforts, commented Washington Post congressional reporter Paul Kane.
"She's increasingly irritating folks in her own conference," Kane wrote via Twitter on March 3. "Which, of course, she is fine with doing, she doesn't care."
After her fourth adjournment attempt on Wednesday, Democratic Rhode Island Representative David Cicilline said he will propose a rule change to ensure that Greene can't try it again. The rule change would only allow House committee members to introduce a motion to adjourn.
During her first month in Congress, Greene was stripped of all her House committee assignments because of her past social media comments. Her past comments suggested violence toward Democratic political leaders and pushed extremist and anti-Semitic conspiracy theories.
Newsweek contacted Greene's office for comment.