Marjorie Taylor Greene Says CRT Should Be Outlawed, Teachers Fired 'On the Spot'
Rep. Marjorie Taylor Greene has decried critical race theory as "completely evil," said it should be outlawed across the country and that any teachers found teaching it should be fired immediately.
The controversial Georgia congresswoman's comments came after she was asked about a teachers union that reportedly has a legal defense fund to aid any members who get sued over teaching racism and slavery.
Critical race theory examines history through the lens of racism and argues that racism is ingrained in U.S. law and institutions, but many conservatives have denounced the theory as divisive.
Several states have passed new laws limiting how race can be taught in the classroom, and similar proposals are being considered in at least a dozen others.
In an appearance on The Todd Starnes Show podcast on Thursday, Greene said Congress should just completely outlaw the teaching of critical race theory.
She also claimed teachers' unions working to protect teachers were "communist."
"The people pay all the taxes and they pay these teachers' salaries," Greene said. She claimed unions "have no right to organize in this manner, to launch legal action against parents, mothers and fathers who are paying the taxes that fund these teachers' salaries."
Greene said: "So what we should do, number one, Congress should immediately outlaw critical race theory—it should be completely against the law. It's racism, it's hate, and it's dividing our children and teaching them something horrible. It should be completely against the law."
She added: "Then secondly, we should disband these communist teachers' unions that want to organize, raise money to file lawsuits against parents who are paying the taxes that are paying the teachers' salaries.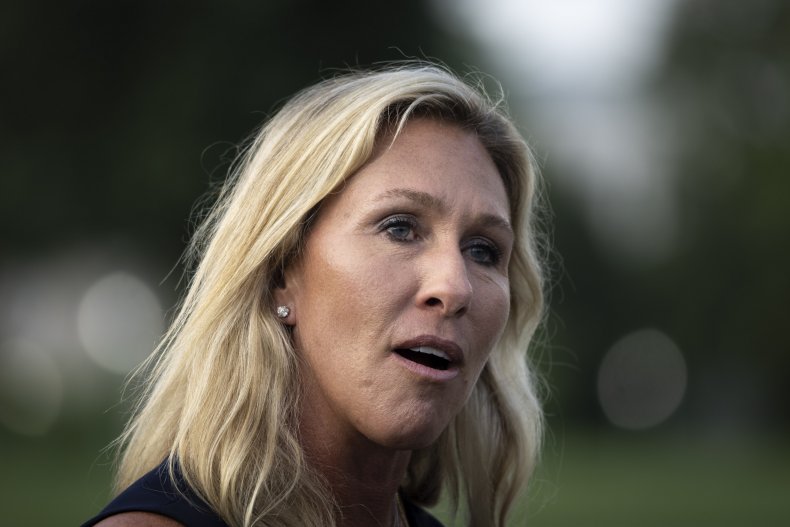 "Third, what we have to do is we have to be able to fire any teacher on the spot immediately if they are found teaching critical race theory. And I'm that serious about it. I'm sick and tired of Republicans and leaders who won't take action to end something and not allow it to happen. We've got to end it where it's starting, and that means right now."
Greene added that she was "so proud of the parents that have gone to their school board."
"These people are, they're heroes—and they're actually taking back control away from these communist teachers' unions. And they're truly doing the job of being a parent, which is loving your child and protecting your child from evil. And that's what critical race theory is, completely evil."
Greene doubled down on the comments in a poll that found 78 percent of voters believe it is important children learn "traditional values" in school.
"Which means that's most of the tax dollars that fund education and pay teacher's salaries," Greene tweeted. "So teach traditional values. Or we will have to defund teachers salaries that refuse. Problems are easy to solve once we start firing people."
Earlier this week, Randi Weingarten, the president of the American Federation of Teachers, told the Associated Press that the union has added $2.5 million to its existing legal defense fund to "defend any member who gets in trouble for teaching honest history."
Weingarten added that that critical race theory is mostly taught in universities, not in elementary, middle or high schools and that conservatives are trying to limit teaching accurate history about race and discrimination.
"Teaching the truth is not radical or wrong. Distorting history and threatening educators for teaching the truth is what is truly radical and wrong," she said in an address to union members this week.