Marjorie Taylor Greene Says 'I Just Don't Care' That People 'Laugh at' Her
Rep. Marjorie Taylor Greene insists that she does not "care" that people "laugh" at her for repeatedly spreading false claims that former President Donald Trump won Georgia's 2020 presidential election.
The Georgia Republican made the remarks during a Thursday appearance on former Trump adviser Steve Bannon's War Room: Pandemic podcast. The congresswoman said that she had been laughing and "loving every minute" of watching "the truth come out" concerning the election.
Greene singled out alleged "criminal level" fraud in Georgia's Fulton County while maintaining that she was not bothered by those who mock her for promoting conspiracy theories about the election being "stolen" from Trump.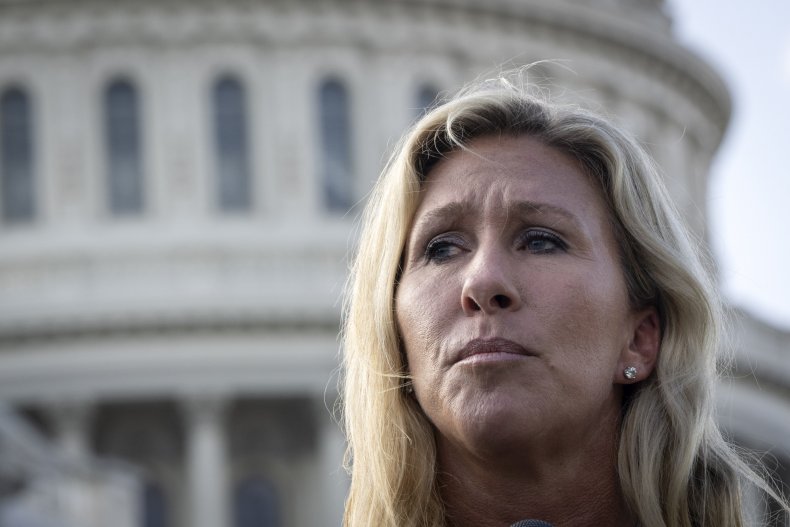 "Georgia was stolen, I know for a fact that President Trump won, none of us believe that Biden won Georgia," Greene said. "I have stood up for the truth that I know to be true, and that's President Trump won our state. And I'm so proud to say it, I'll say it over and over again. They laugh at me, they scoff at me, they constantly make fun of me on every single level, and I just don't care."
"We know that there was fraud committed in Fulton County on a criminal level, and absolutely people should go to jail," she added. "This has been going on for years, especially in Fulton County...This election was stolen, there was cheating going on at a level that we have never seen in our entire history."
Greene cited an article published by The Atlanta Journal-Constitution on Tuesday, which noted that almost 200 ballots in Fulton County had been incorrectly counted twice before a recount. She inaccurately said that the paper reported "thousands of ballots" had been scanned twice. Greene also left out the fact that the ballots were counted only once in the final tally.
While the error would have netted President Joe Biden 31 additional votes if it stood, it ultimately had no bearing on the election results. Biden beat Trump in Georgia by a little less than 12,000 votes statewide. Audits and recounts have failed to uncover any type of evidence of massive fraud that would have reversed Biden's win.
Bannon mentioned calls to "decertify" the election results during the interview, an idea that has been gaining popularity among pro-Trump conspiracy theorists. Aside from there being no evidence of massive fraud, there is no legal mechanism to decertify the election results or change the outcome at this point.
If an attempt were made to "recall" Electoral College electors, as some have suggested, it would be a pointless exercise since Congress has already irreversibly finalized and certified the results in every state. There is no Constitutional mechanism to reverse Biden's win and declare Trump the winner instead.
Newsweek reached out to the office of the Georgia Secretary of State Elections Division for comment but did not hear back in time for publication.