Marjorie Taylor Greene has said that Donald Trump was betrayed "like Caesar" over Hunter Biden's case and has accused federal agencies of turning a blind eye and covering up alleged suspicious activities surrounding the president's son.
The Georgia Republican, a Trump loyalist, has long focused her attention on Hunter Biden, calling for the president's son to be drug-tested. During a House Oversight Committee hearing in July, Greene shared pictures of him naked and being engaged in sexual activities.
Greene has claimed that there's a federal cover-up aimed at hiding alleged crimes committed by the Biden family, including foreign business deals involving Ukraine.
Newsweek contacted the FBI for comment by email on Tuesday. A phone call to the IRS found its media office closed.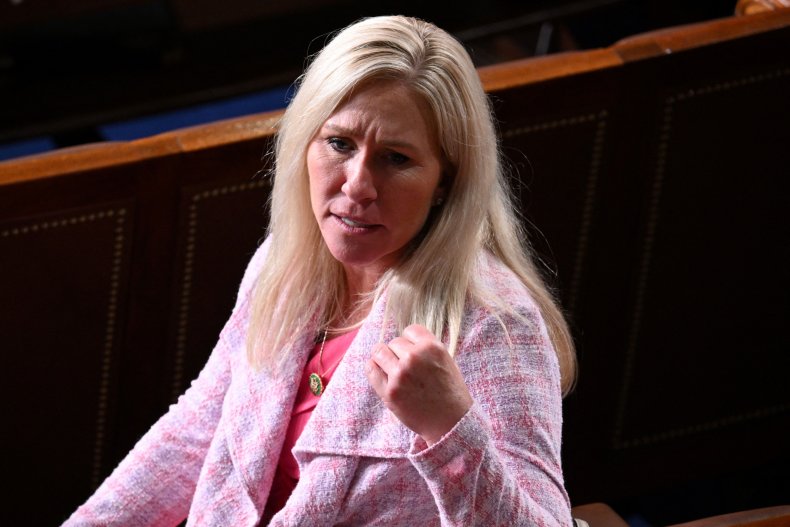 In a post on X, formerly known as Twitter, published on Monday, Greene shared an article from Just The News, the news company founded by former The Hill and Fox News contributor John Solomon. The news piece claims that federal agencies "received waves of warnings about Hunter Biden" since 2015 "but delivered no consequences."
"The cover-up happened mostly during President Trump's own administration," Greene wrote, sharing a link to the article on X. She added: "Betrayed just like Caesar!!!"
Julius Caesar, the Roman military commander who played a crucial role in turning the Roman Republic into an empire, was famously assassinated by a group of senators conspiring to restore the republic.
Newsweek contacted Greene's spokesperson for comment by email on Tuesday.
Solomon has previously published two opinion pieces in The Hill in 2019 where he alleged that Joe Biden had collaborated with "allies" in Kyiv during his vice presidency over "wrongdoing [...] ranging from 2016 election interference to obstructing criminal probes."
His claims, which were dismissed by the State Department as "an outright fabrication," included unproven allegations that the president and his son were involved in a corrupt scheme with Ukraine.
His recent article published on Just The News contains a quote from House Oversight and Accountability Committee Chairman James Comer, a Republican, saying that all federal agencies allegedly warned through the years about Hunter Biden didn't follow up with their investigations.
"Every time some agency—whether it be the IRS, whether it be the FBI—whomever started to investigate," he said.
"I don't know if it's for fear of embarrassing Joe Biden or for fear that it would eventually lead to Joe Biden. But for whatever reason, some deep state actor steps in and says, 'Stand down, call it off.'"
The GOP-led House Oversight Committee is leading an investigation into Hunter Biden's foreign business dealings which showed no direct links to President Joe Biden, though Comer claimed last month that they were going to subpoena the entire Biden family.