Marjorie Taylor Greene Shuts Down Idea That Trump Will be Reinstated in August, 'Not True'
Rep. Marjorie Taylor Greene is still a staunch ally of former President Donald Trump but she's not in the camp of people who believe he'll return to office before fall.
Several religious leaders and MyPillow CEO Mike Lindell have backed the belief that Trump will be reinstated as president in the coming months. The hope is rooted in the conviction that evidence will come out showing the election was fraudulent and while Greene believes Trump won the 2020 election, she doesn't see him being reinstated.
"I would hate for anyone to get their hopes up thinking that President Trump is going to be back in the White House in August because that's not true and I'm telling you that as a member of Congress, that's a very difficult thing to do," Greene told Steve Bannon on his podcast on Wednesday.
Greene added that people need to be "careful in what they believe," but didn't mention anyone by name as to who she thought was peddling faulty information.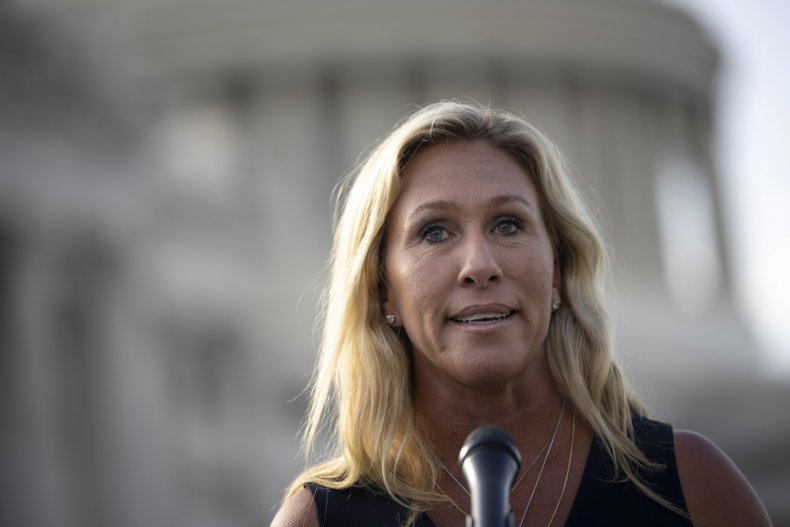 Lindell has become a leading voice for the belief that Trump will be back in office by August and has set Aug. 13 as the date that his reinstatement will be the "talk of the world." On Sunday, he told WVW Broadcast Network's Brannon Howse that the results would be overturned not only for Trump but "down-ticket senators."
Some are clinging to hope that an audit of the election being conducted in Fulton County, Ga., will sway the results in Trump's favor. In 2016, the former president took Georgia by about 5 points but four years later, he lost the key state by less than a point. With 16 electoral votes, it was a difficult blow to Trump's reelection bid and he's consistently fought the results ever since.
In May, a judge agreed to unseal more than 100,000 absentee ballots in Georgia's most populous county and order the production of high-resolution images so plaintiffs can evaluate their legitimacy. Greene is very hopeful the audit will successfully prove there was "real election fraud" and she told Bannon she's seen the "real evidence" the attorneys have.
Having lived in Georgia her whole life, Greene told Bannon the state reelected Trump in November, as well as, former Senator David Perdue. Perdue failed to secure the 50 percent of votes necessary to win the election in November and lost to Democrat Jon Ossoff in a runoff election in January.
Greene backed decertifying the election if the audit shows President Joe Biden didn't win Georgia, but even if Trump were to get those 16 electoral votes, it wouldn't be enough for him to win the election.