Marjorie Taylor Greene Slammed by Infowars Viewers: 'Fraud'
Infowars viewers seem to have turned against Republican hardliner Marjorie Taylor Greene after she supported Kevin McCarthy in his bid to become House speaker, recent calls to the far-right news website show.
During a show on Wednesday, January 4, after McCarthy had lost seven consecutive votes, Infowars host Owen Shroyer took a call from a viewer who had a message for Greene, as per a tweet shared by PatriotTakes—a Twitter account that aims to monitor right-wing extremism online—on Sunday. The video had more than 40,000 views.
"She has a great voting record. But guess what, it doesn't matter when she knows that the policies aren't gonna get through," the man said.
"So here's the only vote that counts, and that is: she needs to change her vote today, or she's a fraud. [...] And she doesn't deserve to come on Infowars if she doesn't change her vote today cause she's a fraud."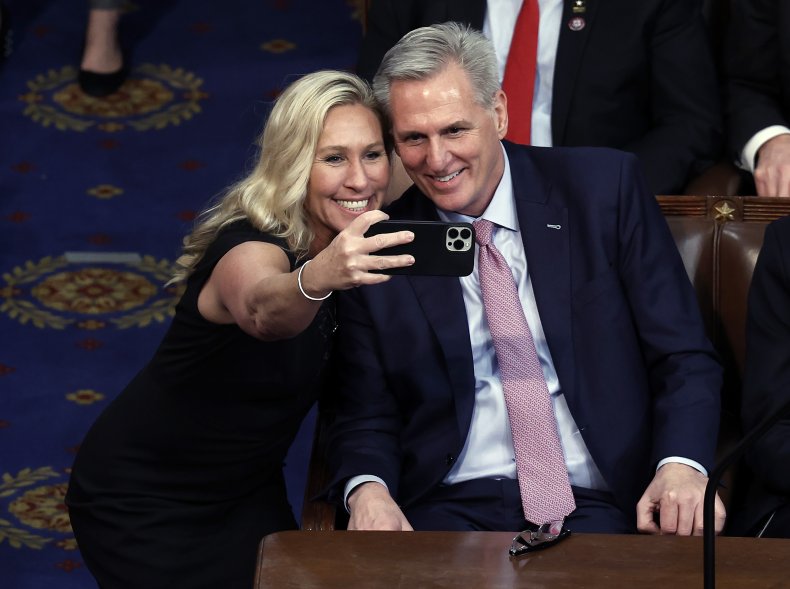 Shroyer defended Greene, saying he thought the Georgia congresswoman was still "one of the good ones in there" and "one vote" doesn't make her a fraud.
"I hope that she does come on to either explain why she supports McCarthy or just to give us a little idea of what's going on today," Shroyer said. "I'm not ready to throw Marjorie Taylor Greene under the bus."
Another caller told Shroyer that "something happened with Marjorie Taylor Greene," implying that blackmail could explain why she was supporting McCarthy's bid while so many of her Freedom Caucus colleagues chose to vote against the California representative.
"I don't care about her personal life, but she's got to own whatever it is so they can't hold it over her head," he said.
The apparent loss of support from viewers of the far-right news website reflects a recent rift between the Georgia congresswoman and other Republican hardliners.
Greene's support for McCarthy has caused a clash between the Georgia congresswoman and some the Freedom Caucus Republicans who had long seemed her closest allies in the House.
In an interview with CNN on Thursday, January 5, after McCarthy had just lost 11 consecutive votes, Greene blasted Colorado Congresswoman Lauren Boebert, accusing her of creating the current "drama" unfolding in Congress.
"We're on multiple days now with multiple candidates from this group, so I'm not sure how Lauren Boebert on one hand can demand so much out of Kevin McCarthy, but then demand nothing out of someone else and then be willing to vote for them to be speaker. That's not serious," Greene said.
The feud between Greene and Boebert also expanded to Rep. Matt Gaetz from Florida, who was at the forefront of the opposition to McCarthy's candidacy to House speaker despite former President Donald Trump's call to rally around the candidate.
Talking to reporters outside of Congress last week, Greene accused both Boebert and Gaetz of not caring "about doing the right thing for America," calling them "destructionist."
McCarthy was finally elected House Speaker early on Saturday January 7 in the 15th round of votes. Gaetz and Boebert voted "present" in the final vote.
After McCarthy's victory, Greene published a picture of herself next to the newly elected House speaker on Twitter, writing: "Congratulations, Mr Speaker!"
While the Georgia congresswoman might have lost the support of Infowars viewers, the website's owner Alex Jones has remained silent about her decision to support McCarthy.
Greene has repeatedly appeared on Infowars in recent years as a guest of Jones' show. In 2022, Jones told Greene he would back her in a potential presidential run against Trump or Florida Governor Ron DeSantis.
Greene came out in defense of the conspiracy theorist after a Connecticut jury, in October 2022, ordered him to pay nearly $1 billion in damages to the families of victims of the 2012 Sandy Hook school shooting, which he falsely claimed was a hoax. Greene called the trial "political persecution" and defending Jones' "freedom of speech."
"No matter what you think of Alex Jones all he did was speak words. He was not the one who pulled the trigger," Greene wrote on Twitter. "Were his words wrong and did he apologize? Yes. That's what freedom of speech is. Freedom to speak words."
Newsweek has contacted Greene for comment.