Marjorie Taylor Greene Slams 'Nasty Women' After Being Faced With Protests
Rep. Marjorie Taylor Greene of Georgia has slammed those who gathered to protest her appearance at a Republican dinner in Idaho as "nasty women."
Almost 100 protesters gathered to denounce Greene ahead of the congresswoman's speech at the Kootenai County Republican Central Committee's Lincoln Day Dinner in Coeur d'Alene on Saturday, The Spokesman-Review reported.
They stood along Sherman Avenue outside the Coeur d'Alene Resort, chanting "love lives here" and waving banners and signs, including ones that read: "Elect clowns, get a circus."
Greene shared a clip of the protesters on Twitter, writing: "I am so honored to have so many protesters — made up of nasty women who watch the view and their "low-T" husbands — here in Idaho! Privilege of a lifetime."
Her comments received mixed responses, with supporters suggesting the protesters had traveled from Idaho or California.
But others criticized Greene, with Twitter user Dianne Callahan writing: "This is a member of Congress complaining about people protesting her being in Idaho.
"She knows nothing about these women and their husbands, but she continues to embarrass the U.S. and Georgia with her unprofessional, pithy comments."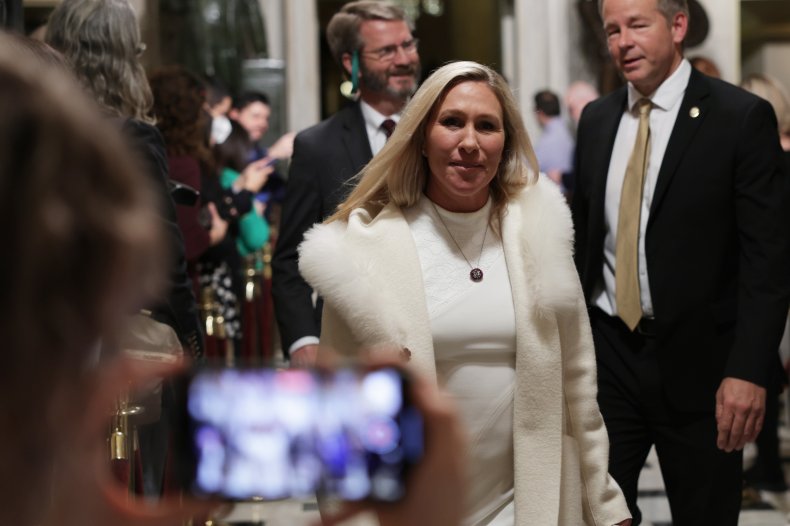 According to the Spokesman-Review, the protesters had received some pushback from people who drove past. One yelled "shame on you!" while another called them "traitors."
Democrat Ann Marie Danimus, who is running to unseat GOP Rep. Cathy McMorris Rodgers in 2024, was among the protesters.
Greene doesn't get much done in office, "except for stirring the stick of hate, stirring the lies," Danimus told the newspaper.
"She is kind of the Instagram model of the GOP."
Greene's appearance was also condemned by North Idaho Republicans, which describes itself as a "a regional Republican association of LONGTIME Republicans" on its website.
"We condemn the KCRCC's decision to host Marjorie Taylor Greene at the annual Lincoln Day event," the group wrote in a post on Facebook.
"By associating herself with white nationalists, she, and by extension the KCRCC, dishonor this event and its namesake. Moreover, her support for the January 6th insurrection is an affront to law enforcement, including our hard-working men and women in blue here in Kootenai County."
Greene has repeatedly been criticized since she was elected to Congress in 2020 for embracing conspiracy theories and other controversies. She sparked outrage in December after saying that the January 6 insurrection "would've been armed" if she had organized it.
Greene also drew criticism earlier this week for heckling President Joe Biden during his State of the Union address.
She said she didn't regret her actions, and that the president "got exactly what he deserved."
Greene's office has been contacted for further comment.