Marjorie Taylor Greene Slows Down House's Final Vote on Joe Biden's Stimulus Package
Representative Marjorie Taylor Greene has once again disrupted the House of Representatives' schedule by forcing a vote on a motion to adjourn—this time delaying passage of President Joe Biden's $1.9 trillion relief package.
Greene, a Georgia Republican, has made it a habit in recent weeks to delay congressional business by putting forward procedural votes to adjourn the lower chamber's legislative session each day.
"I just made a motion to adjourn to stop Congress from passing the $1.9 trillion massive woke progressive Democrat wish list," Greene wrote on Twitter Wednesday. "The GOP has messaged against this ridiculous bill. We should do everything to stop it. Pay attention if Rs vote to adjourn. Or with the Dems."
Representative Jim McGovern (D-Mass.) told reporters that it was "unconscionable that they are doing everything they can to try to, again, delay getting aid to the people, including their constituents who are in desperate need."
McGovern added, "And I have a prediction. The same people that are, you know, that are objecting and trying to delay this process will be the first ones in line at the press conferences to announce the money for their cities and towns and, you know, for struggling families. So I mean the hypocrisy is unbelievable."
Greene's motion to adjourn on Wednesday failed in a 149-235 vote, with 41 Republicans voting against it.
"By voting against my motion to adjourn, some of my Republican colleagues are siding with the Democrats and enabling their policies that will destroy America," Greene said in a statement. "These Republican votes are the 40 white flags of the Surrender Caucus."
The press release also included a list of the "Republicans who voted with Democrats to proceed on the $1.9 trillion Blue State Bailout."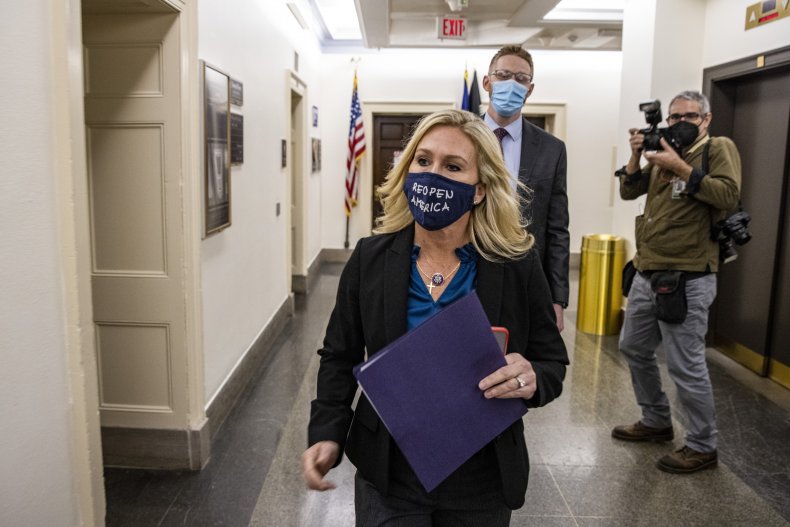 Despite the slight delay, the House is poised to pass the president's sweeping relief package, also known as the American Rescue Plan. Biden is expected to sign it into law by Sunday, which is when key unemployment programs expire.
The American Rescue Plan will provide $1,400 direct payments to individuals making less than $75,000 annually, $350 billion in state and local aid, $14 billion for vaccine distribution and $170 billion for education. It will also provide an additional $300 in weekly unemployment benefits through September and a child tax credit of up to $3,600.
Biden and congressional Democrats have called the bill "historic" and say it is one of the most progressive pieces of legislation in decades. But it's gotten little to no support from congressional Republicans and will be passed through a simple majority vote via the budget reconciliation process.
Despite GOP opposition, the relief bill has broad public support, according to a new poll from Morning Consult and Politico. The survey, released Wednesday, found that 59 percent of Republicans, 90 percent of Democrats and 71 percent of independents backed the $1.9 trillion package.
This story has been updated to include a statement from Marjorie Taylor Greene.