Marjorie Taylor Greene 'Solidly Convinced' Trump Won Georgia Despite State Certifying Biden's Win
Congresswoman-elect Marjorie Taylor Greene, a Georgia Republican and promoter of the dangerous QAnon conspiracy theory, is anything but convinced the Peach State voted for President-elect Joe Biden, despite the state certifying its election results on Friday.
"As a lifelong Georgian, I do not believe Georgia voted for Joe Biden," Greene said during an appearance on Newsmax TV Monday morning. "I'm solidly convinced that we elected—or re-elected—President Trump."
The refusal to accept the results is despite a statewide audit that was conducted by hand that confirmed Biden's victory and found no widespread fraud, as well as a slew of Republicans on Capitol Hill who are growing tired of President Donald Trump's refusal to accept the results of the presidential election.
Georgia Gov. Brian Kemp (R) and Secretary of State Brad Raffensperger (R) certified his state's election outcome on Friday, which showed Biden besting Trump by 12,284 votes, or roughly 0.25 percent. The hand audit of the nearly 5 million ballots narrowed Biden's win by 496 votes after some counties discovered previously uncounted votes. There was no widespread evidence of any election fraud.
Due to the narrow margin that's less than 0.5 percent, the Trump campaign requested a recount, meaning the ballots will be tabulated for a third time.
Still, Greene questioned the results and parroted baseless fraud conspiracies offered by other Republicans and Trump officials, without any evidence. Citing changes from the original count to the hand audit, Greene suggested scanning the ballots again could prove favorable for Trump before calling into question the accuracy of those very same machines.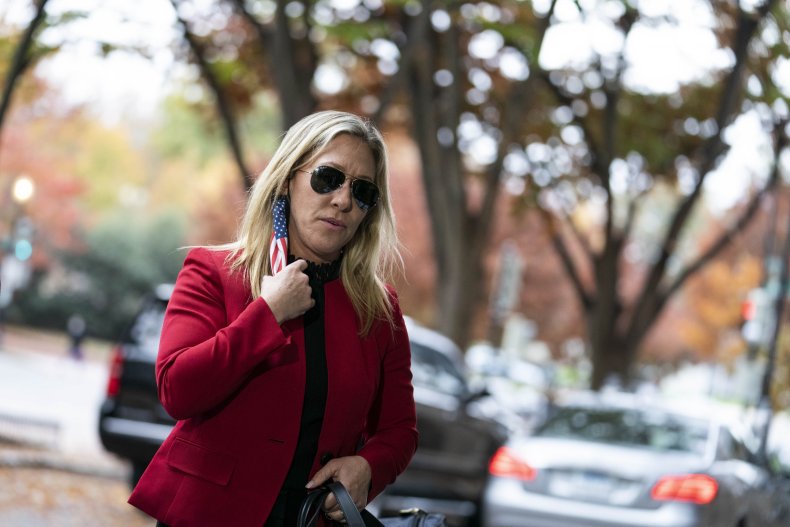 "If you were to rescan all the ballots in the entire state, imagine what would come out," she said. "But once you rescan them in these machines, we know there's problems in these machines."
Speaking about the baseless fraud claims and conspiracy theories touted by attorney Sidney Powell last week—who the Trump campaign distanced itself from following Powell's appearance at a campaign press conference where she made such claims—Greene said she is "the kind of person" who "needs proof."
"I need proof, that's the kind of person I am," Greene told Newsmax, a Trump-friendly conservative news outlet. "I think we can only base our opinions on proof, and Sidney Powell—she's an amazing attorney, but she brought out some cheap accusations, and I think they have to be proven before people can make those kind of opinions. I think it's important for every single American to be able to go forward with truth and transparency and honesty and proof."
Nearly a dozen current or former Republicans, including a former top Trump official, in recent days have denounced the campaign's legal efforts—all of which have failed to alter the outcome in any manner—to overturn the election as undemocratic and suggested it was time to officially recognize Biden as the president-elect.
Prior to her election, Greene touted baseless, false and dangerous conspiracies from QAnon, a radical and far-right ideology that believes there's a deep-state of Satan-worshipping pedophiles who are Democrats, among other people, and operate a global child sex-trafficking ring. The FBI considers QAnon a potential domestic terror threat.
Greene has made racist and anti-Semitic statements, as well as questioned the validity of the 9/11 terror attacks. Since then, she has tried to distance herself from QAnon.
Still, her controversial views offered no challenge to emerging victorious in Georgia's ruby red 14th Congressional District over her Democratic opponent.
Offered the chance by Newsmax to condemn QAnon, Greene instead blamed "Democrat activists" rather than her own prior remarks.
"Those were the same Democrat activists that shoved Russian collusion conspiracy theories down our throat for like four years," the incoming lawmaker responded.