Marjorie Taylor Greene Supported Clinton Child Murder Conspiracy Theory Before Running for Congress
Future Republican congresswoman Marjorie Taylor Greene commented in support of a conspiracy theory claiming that former Secretary of State Hillary Clinton murdered, mutilated and drank the blood of a child in a resurfaced Facebook post.
Greene, an ardent supporter of former President Donald Trump who was elected to represent Georgia's 14th Congressional District in November, has long been associated with far-right pro-Trump conspiracy theories like QAnon and Pizzagate. May 2018 Facebook comments from Greene, surfaced by watchdog group Media Matters for America, appear to show her approval of a particularly outrageous conspiracy known as "Frazzledrip."
The evidence-free conspiracy alleges that an underground video shows Clinton and her long-serving aide Huma Abedin taking part in a Satanic ritual that included murdering a young girl by "filleting" her face off and drinking her blood. Greene seemingly signaled her approval of the theory when commenting on a reply to an image she posted of Trump with the mother of Miosotis Familia, a New York Police Department detective who was murdered in the previous year.
"This is the mother of a NYPD officer who watched a horrific video seized on anthony weiners laptop of huma and hillary filleting a childs face," a Facebook user commented on Greene's post. "This was another hillary hit."
"Yes Familia," Greene responded. "I post things sometimes to see who knows things. Most the time people don't. I'm glad to see your comment. I've decided it's time to start doing a lot more videos and engage further in the fight. Most people honestly don't know so much. The msm [mainstream media] disinformation warfare has won for too long!"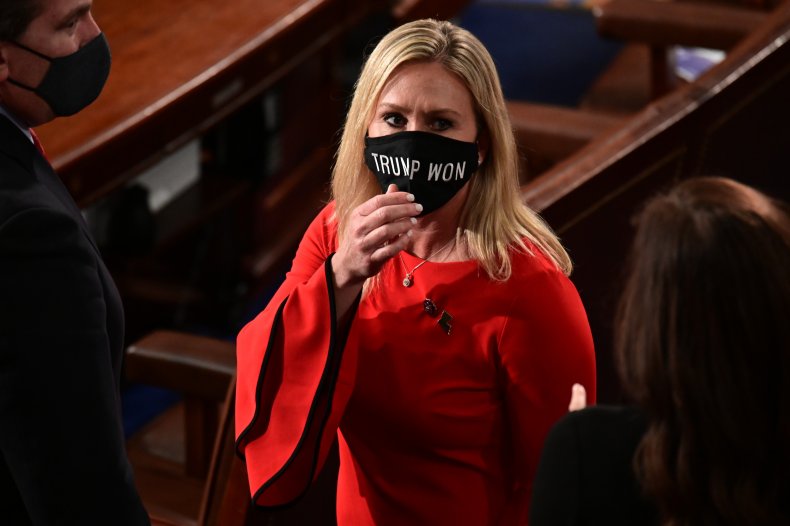 While there is no evidence that the video exists, one fake "screencap" that circulated online purported to show Abedin wearing the "filleted" face of the child. The photo was quickly identified as a manipulated image taken from the website of a popular restaurant in the Washington, D.C. area, featuring an anonymous woman in what appears to clearly be a conventional costume mask.
Nick Dyer, Greene's communications director, told Newsweek that surfacing the congresswoman's older Facebook comments was a "left wing smear" but declined to give further comment.
Only weeks after taking office, Greene has faced mounting calls to resign due in part to the uncovering of multiple comments and "likes" to her Facebook page that indicate support for several other far-right conspiracy theories, including the false claim that the 2012 mass shooting at Sandy Hook Elementary School was staged.
On Tuesday, Greene described a CNN article focused on Facebook activity showing her past support for assassinating or executing prominent Democrats as a "hit piece," while complaining that "CNN hasn't once tried to cancel a Democrat" and vowing to "never back down from the enemy of the American people." Trump frequently referred to the press as "the enemy of the people" during his presidency.