Marjorie Taylor Greene Suspended From Twitter After Saying Vaccines Are Failing
Georgia Republican Representative Marjorie Taylor Greene's pushback to the Food and Drug Administration's (FDA) potential approval of the COVID-19 vaccines on the basis they don't work landed her a suspension from Twitter.
A staunch opponent to vaccine and mask mandates, Greene has been pushing people to resist getting vaccinated and defy mask requirements. She ramped up her efforts this week, sharing stories of people who still got COVID-19 despite being vaccinated.
Greene posted on Twitter Tuesday that vaccines don't work, so the FDA should not approve them.
"These vaccines are failing and do not reduce the spread of the virus and neither do masks," Greene wrote on the social media platform. "There are too many reports of infection and spread of COVID-19 among vaccinated people."
Her tweet was flagged with a disclaimer from Twitter that informed viewers the post was "misleading." The platform also blocked people from replying to Greene's tweet, liking it or sharing it.
A Twitter spokesperson told Newsweek that Greene's account will be in "read-only mode" for a week because of "repeated violations" of Twitter's rules. Under the platform's policy, a 7-day account lock is instituted after "four strikes." One more "strike" could result in permanent suspension.
Newsweek reached out to Greene for comment, but did not receive a response in time for publication.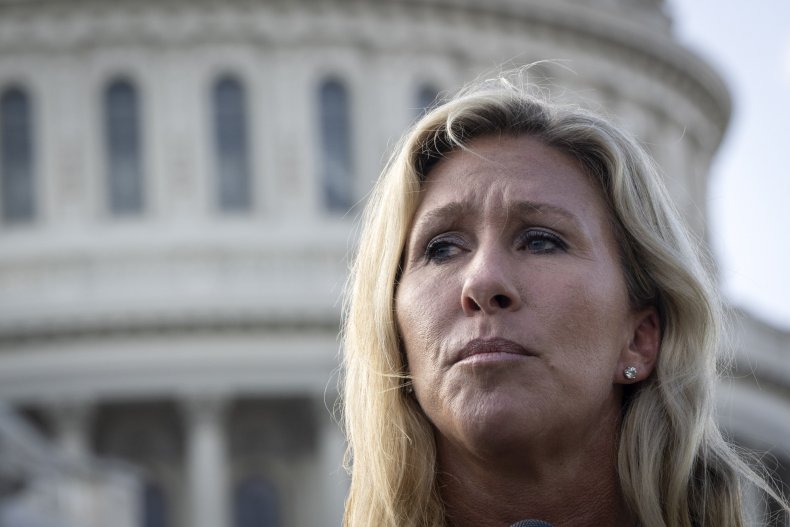 Vaccines have proven to be effective at preventing serious illness, and states have reported 90 percent of hospitalizations involve people who were unvaccinated. Although the vaccine is expected to help reduce a person's chances at contracting the virus and spreading it, no vaccine is 100 percent effective.
The Centers for Disease Control and Prevention (CDC) expected to see breakthrough cases as some people have tested positive after getting vaccinated. Officials reject that this means vaccines aren't effective and often point to the low level of hospitalizations among vaccinated people as evidence of their importance.
Greene has used stories of people getting COVID-19 after being vaccinated in an apparent attempt to drum up support for her pushback to vaccine mandates and the FDA approving the vaccine. She claimed a distant family member had worse symptoms than her husband who was unvaccinated, indicating the vaccine did not make them "more mild." However, there's no way to know whether the woman would have had the same or worse symptoms had she not been vaccinated.
"The Pfizer vaccine will be FDA approved soon as a vaccine to protect people from getting COVID and spreading COVID," Greene wrote on Twitter on Monday. "Many people's personal testimonies are saying they are still getting sick with COVID and vaccinated people are spreading it. It should NOT be approved or mandated."
The FDA granted Emergency Use Authorization (EUA) to three COVID-19 vaccines, meaning they can be administered despite not having full approval because it's a public health emergency. Vaccines not having the full FDA approval, which requires additional evidence, has been used by some to justify not getting vaccinated.
Full FDA approval would hinder people's ability to buck getting vaccinated on the basis that it's "experimental," and may also pave the way for businesses and other entities to mandate vaccines with less pushback.
Dr. Jerome Adams, former surgeon general for former President Donald Trump, told CNN's New Day he hopes the FDA grants full approval sooner rather than later. He believes it has all the evidence it should need to make a decision, which could come this month.