Marjorie Taylor Greene Tells GOP 'Flood the Polls' in 2022 After Trump Says They Won't Vote
Representative Marjorie Taylor Greene urged Republicans to turn out in large numbers in 2022 despite concerns they have about the validity of the 2020 presidential election.
A poll of Greene's constituents found 4 percent of voters didn't plan on casting a ballot in the 2022 midterms, according to the Georgia representative. While Greene's been a vocal critic of the handling of the 2020 election and is pushing for a full audit of Georgia's results, she told constituents that if 4 percent of them had stayed home in 2018, Georgia would currently have a Democratic governor.
Governor Brian Kemp's margin of victory over Stacey Abrams in 2018 was less than four points and Greene called it "critical" that Republican voters still vote.
"Voices online that are telling you not to vote are doing the Democrats' dirty work. Stop listening to grifters telling you not to vote," Greene posted on Twitter. "We must root out the fraud, but we also have to VOTE."
Days earlier, former President Donald Trump said Republicans wouldn't vote in the midterms or the 2024 presidential election if the "election fraud isn't solved." He called it the "single most important thing for Republicans to do" and denied that he's failed to provide evidence that he's the rightful winner of the election.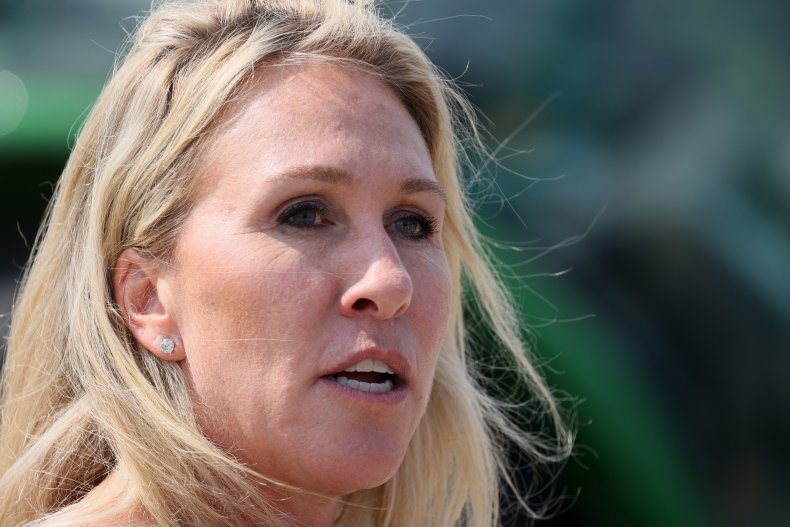 Trump's statement came hours after a Georgia judge dismissed a lawsuit alleging fraud in the 2020 election. Plaintiffs sought a review of more than 100,000 votes, but the judge denied they properly alleged a particularized injury and thereby ruled they lacked standing to claim their constitutional rights were violated.
The former president called the case's dismissal a "disgrace" to America and claimed "nobody" wanted to do anything about the country's "corrupt" elections.
While Greene shared in Trump's frustration about the ruling, she said on Monday that Republicans needed to "flood the polls" in 2022 to keep Democrats from winning "by default." She also continued to advocate for auditing the 2020 election, prosecuting "the fraud" and ending widespread mail-in ballots.
Greene overwhelmingly won her election in 2020, so 4 percent of Republicans staying home wouldn't have changed her position in Congress. However, in a close race, voter turnout based on political affiliation often determines the winner.
Some Republicans, including Arkansas Governor Asa Hutchinson, have been pushing members of the GOP to leave the 2020 election in the past and look toward taking back control of Congress in 2022. Hutchinson told NBC's Meet the Press on Sunday that litigating 2020 is a "recipe for disaster in 2022." He called Trump's recent statement about Republicans sitting elections out "not constructive" and encouraged Republicans to focus their messaging on supply chain disruptions, the pandemic and freedom.