Marjorie Taylor Greene Flip Flops on Whether Pelosi Is 'Traitor'
Republican Representative Marjorie Taylor Greene has appeared to flip flop on whether or not she previously called House Speaker Nancy Pelosi a "traitor."
On Friday, Greene appeared during a hearing to testify about her alleged involvement in the January 6 riots. A group of Georgia voters recently filed a complaint with the state claiming that she does not meet constitutional requirements to run for reelection following accusations she played a role in the riots.
During the hearing, Greene was asked about her past comments made about Pelosi, and if she called her a "traitor" to the country.
"Did you say, referring to speaker Pelosi, 'She's a traitor to our country. She's guilty of treason. She took an oath to protect the American citizens. She gives aid and comfort to our enemies who illegally invade our land,'" Greene was asked by lawyer Ron Fein, who is representing the group of Georgia voters who challenged Greene's eligibility to run for reelection.
In response, Greene said, "I said…this is what I was telling you is [Pelosi] doesn't uphold our laws."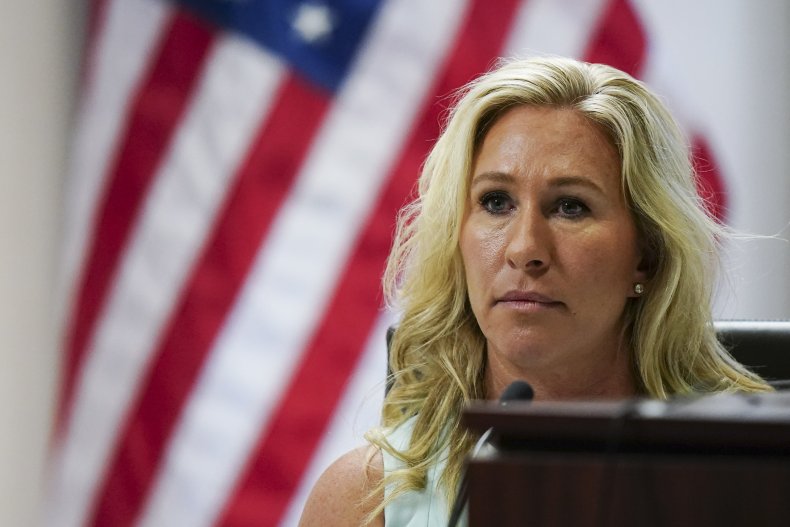 When asked again if she called Pelosi a "traitor," Greene said, "According to this CNN article I did, I don't remember…I don't recall saying all of this, but I do recall having said this about 'I totally disagree with the border issues.'"
Prior to being shown an exhibit of her comments, Greene said, "No I haven't said that," in regard to calling Pelosi a traitor.
"Oh no, wait, hold on now! I believe that by not securing the border that violates her oath of office," Greene then said just before being shown the exhibit.
In January 2021, CNN published a story that included the comments Fein mentioned, which could be the exhibit they are referring to in the hearing. According to CNN, Greene created a petition before she ran for Congress in 2020 calling for Pelosi's impeachment. CNN reported that in a video posted to Greene's Facebook, the Republican representative said, "She's a traitor to our country, she's guilty of treason," as mentioned during the hearing.
Newsweek reached out to Greene's office for comment.
The complaint filed against Greene claims that her alleged involvement in the January 6 riots disqualifies her "from serving as a Member of Congress under Section 3 of the 14th Amendment and rendering her ineligible under state and federal law to be a candidate for such office."
Greene has continued to deny any involvement in the riots, and during a recent appearance on the Jenna Ellis Show podcast, she said, "I did nothing wrong. It is absurd what they are claiming and lying about."
Update 4/22/22, 1:53 p.m. ET: This story was updated with additional information and background.