Marjorie Taylor Greene Tweets 'Build the Wall' on Mexican Independence Day
Georgia Representative Marjorie Taylor Greene took to Twitter on Thursday—Mexican Independence Day—and tweeted "BUILD THE WALL!"
Greene's comment spawned a number of tweets from Twitter users who agreed and disagreed with her comments.
Twitter user @kzamthiel said, "I agree, build the wall around you and all those that think (wrongly) like you do. We need to get rid of the evil in this country and building a wall around you all would be just fine! I want my country back!"
The Forsyth County Republican Party said "@RepMTG is the most effective person we have in Washington. She should be the speaker."
Finally, Twitter user Darcy Gibbons said, "The United States Congress and Senate could have passed legislation in President Trump's first 2 years and THE Wall would have been completed by now."
Greene has been a staunch supporter of former President Donald Trump's past efforts in building the wall along the southern border, and she's continued to urge Biden to continue building the wall. Greene has also mocked Mexicans and made derogatory comments about the country in past appearances and interviews—most recently in May 2021.
During a rally in Dalton, Georgia, Greene stated that drug cartels in the U.S. love Democrats before attempting what she described as a "bad Mexican accent."
"Does the Biden administration and the Democrats not worry about children in cages anymore?" asked Greene. "Do they not care about drug trafficking, human trafficking? No, they're in the business of helping the cartels."
"The cartels love the Democrats," Greene continued. "They're down there, they're like this, 'We're making a lot of money off of Biden, Joe Biden.' That's my really bad Mexican accent. Oh, they love them, they love them. They are raking it in."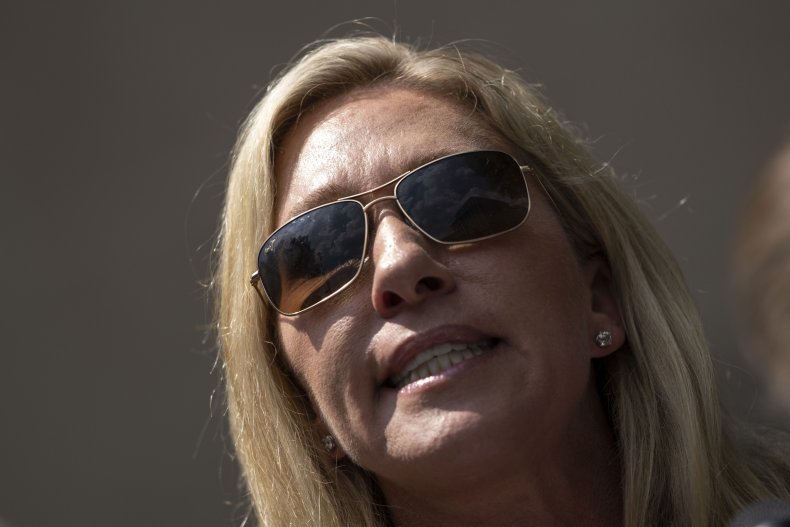 During the same month, Greene compared a mask mandate that was imposed by House Speaker Nancy Pelosi to the Holocaust.
"You know, we can look back in a time and history where people were told to wear a gold star, and they were definitely treated like second-class citizens, so much so that they were put in trains and taken to gas chambers in Nazi Germany," said Greene during an interview.
"This is exactly the type of abuse that Nancy Pelosi is talking about," Greene added.
Greene apologized in June 2021 on Capitol Hill for her remarks after visiting the U.S. Holocaust Memorial Museum in Washington D.C.
Newsweek reached out to Greene for comment before publication.