Marjorie Taylor Greene Accused of 'Secretly Undermining' Donald Trump
Georgia congresswoman Marjorie Taylor Greene has been accused by a far-right activist of purposely trying to sabotage Donald Trump's 2024 bid alongside Kanye West's new presidential campaign manager, Milo Yiannopoulos.
Greene's spokesperson said that the accusations were a lie and that Greene continued to be a strong supporter of Trump.
Laura Loomer, an anti-Muslim conspiracy theorist who ran for Florida congress in 2020, posted a number of accusations against Greene on Telegram. She wrote that the Republican is "undermining" Trump with Yiannopoulos, a former Breitbart editor and alt-right figurehead, whom the congresswoman hired as a congressional intern in June.
Loomer added that Yiannopoulos is now "openly attacking and sabotaging" Trump while working as campaign manager for West, who legally changed his name to Ye.
On Thursday, West, who has announced his intention to run for the White House again in 2024, released a campaign video in which he talks to Yiannopoulos about a meeting the rapper had with Trump at the former president's Mar-a-Lago resort in Florida, along with white nationalist Nick Fuentes.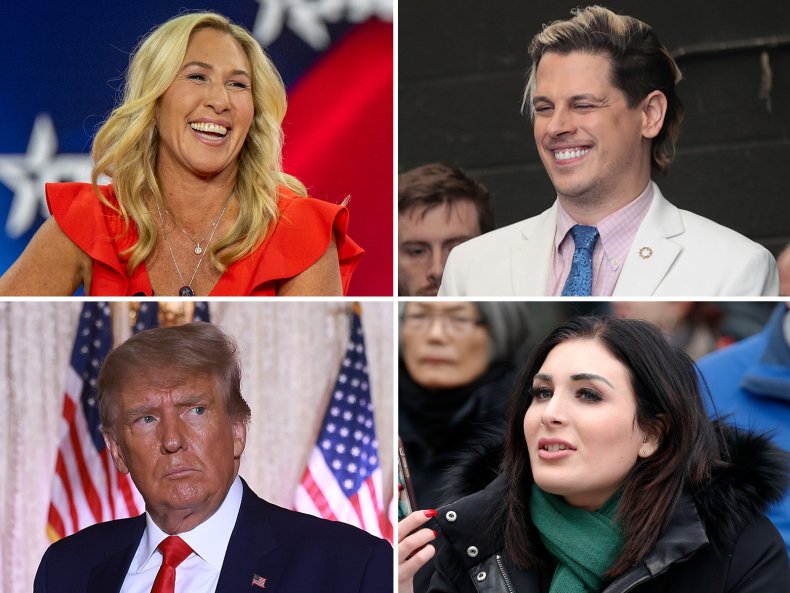 During the clip, West says that Trump was "really impressed" with Fuentes, a Holocaust denier and white supremacist known for frequently making racist and antisemitic remarks.
"Marjorie Taylor Greene is undermining President Trump by employing Milo as an official staffer in her congressional office, while he is openly attacking and sabotaging Trump as the 'campaign manager' for Ye," Loomer wrote, without giving verified evidence.
"It bothers me and should bother all of you that MTG is claiming to be pro-Trump and using Trump to boost her profile, while she and her team are secretly undermining him by using Milo as a political operative to make Trump look bad.
"MTG is a snake and she needs to go. That's why I call her Marjorie TRAITOR Greene," Loomer added.
A spokesperson for Greene denied Loomer's allegations, including the claim that Yiannopoulos still works as an intern for the Georgia congresswoman.
"This whole article is based on a lie. Internships are inherently temporary and none of our summer interns are employed with Congresswoman Greene," the spokesperson told Newsweek. "She clearly supports President Trump. She has been very vocal in that and she has endorsed him for president."
During Trump's first run for president, Yiannopoulos was a controversial yet influential figure as the alt-right rallied around Trump and his bid for the White House.
However, Yiannopoulos, who was banned from Twitter in July 2016 for helping to orchestrate mass racist online attacks against Ghostbusters star and Saturday Night Live comedian Leslie Jones, was shunned by mainstream conservative figures after a video emerged of him in 2017 advocating for pedophilia.
In June, Yiannopoulos said he would be working as an intern for Greene's congressional office. He is now helping West—who has made a string of antisemitic statements since October—in the rapper's latest run for the White House, following his failed 2020 bid.
Elsewhere, Loomer posted that Greene is working with upcoming House Speaker Kevin McCarthy to undermine Trump's 2024 presidential bid and improve Florida Governor Ron DeSantis' chances of clinching the GOP nomination.
"Marjorie Traitor Greene just encouraged all of her colleagues to vote for Kevin McCarthy as Speaker of the House. Kevin McCarthy's best friend is [former GOP House Speaker] Paul Ryan, who recently endorsed Ron DeSantis for President against Trump in 2024," Loomer wrote on Telegram.
"I believe MTG is working with McCarthy to undermine Donald Trump by using Milo as a political hit-job tool for the sake of helping make Ron DeSantis the 2024 GOP presidential nominee.
"Ye takes votes away from Trump. The bad press regarding Trump pushes more people toward DeSantis. MTG cannot be trusted. She still has not fired Milo after his little organized stunt at Mar a Lago and organized media hit job to sabotage Trump," Loomer added.
Writing on Truth Social, Trump said that he "didn't know" Fuentes, while discussing the meeting at Mar-a-Lago, but stopped short of condemning the white nationalist.
"He [West] shows up with 3 people, two of which I didn't know, the other a political person who I haven't seen in years," Trump posted. "I told him don't run for office, a total waste of time, can't win. Fake News went CRAZY!"
Trump also wrote that West "expressed no antisemitism" during the meeting at the former president's Florida home.
Jonathan Greenblatt, CEO of the Anti-Defamation League, told Newsweek that he condemned Trump for meeting with West and Fuentes. Greenblatt described Fuentes as one of the "most prominent and unapologetic antisemites in the country" and a "vicious bigot."
"Kanye West is likewise an unrepentant antisemite who continues to use his outsized celebrity platform to spread noxious hate about Jews."
Greenblatt added: "The notion that former President Trump or any serious contender for higher office would meet with either of them, or validate these two figures by sharing a meal and spending time with them, is appalling. You can't say that you oppose hate and then break bread with haters. It's that simple."
Update 11/28 11:56 a.m. ET: This article has been updated with further comment from Marjorie Taylor Greene's spokesperson.
Do you have a tip on a politics story that Newsweek should be covering? Do you have a question about the far-right? Let us know via politics@newsweek.com.