Marjorie Taylor Greene Urges Parents to 'Protect' Kids as WHO, CDC Split on COVID Vaccine
Georgia Republican Congresswoman Marjorie Taylor Greene is pushing parents to fight back against children being vaccinated against COVID-19, in part, because the World Health Organization (WHO) isn't recommending they be vaccinated.
The WHO is focused on getting adults and health care and frontline workers around the world vaccinated against the coronavirus. Given the limited studies of vaccinations in children and the low risk that COVID-19 has posed to young people thus far, the international health agency has advocated for wealthier nations to vaccinate their high-risk populations first and then donate extra doses to lower-income countries.
On Tuesday, Greene posted on Twiter the WHO's advice that children not get vaccinated against COVID-19 and said schools shouldn't "force vaccines on children."
The congresswoman noted that the COVID-19 vaccines have not received full approval from the Food and Drug Administration (FDA). She also fought back against mask-wearing for children, calling it "unhealthy."
"Parents fight to protect your children," Greene wrote.
Newsweek reached out to Greene for comment, but did not receive a response in time for publication.
Colleges and universities across the country have started mandating that students be vaccinated against COVID-19 before returning to campus. However, vaccination requirements for students in elementary and high school are left up to state legislatures and so far, no state has required the COVID-19 vaccine to attend, according to the National Conference of State Legislature.
Although she backed prioritizing high-risk groups around the world before children, Dr. Kate O'Brien, director of the Department of Immunization, Vaccines and Biologicals at the WHO, acknowledged the benefit of vaccinating kids. During a May 17 briefing, she explained that authorizing COVID-19 vaccines for children opens a "pathway" for protecting younger people, especially those who have underlying conditions that put them at greater risk.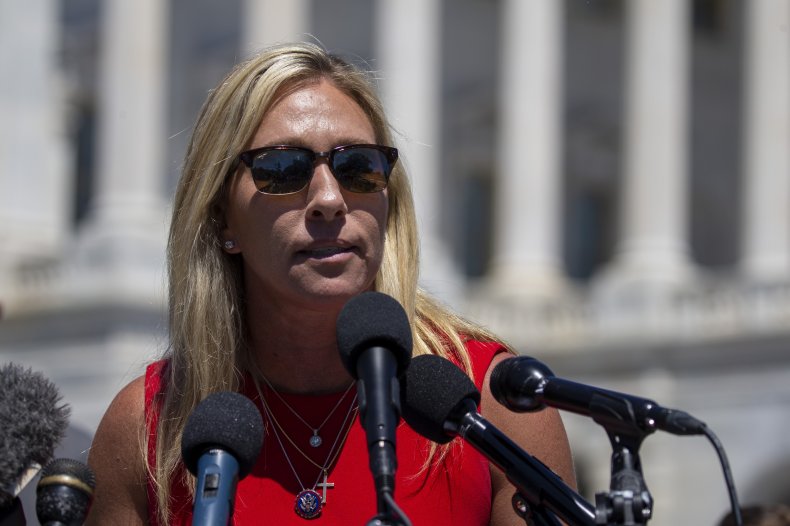 Throughout the pandemic, the WHO and the Centers for Disease Control and Prevention (CDC) have taken slightly different stances on preventing the spread of the virus, and the COVID-19 vaccine is no different. While the WHO won't advise children to get vaccinated, the CDC recommends parents get the COVID-19 vaccine for their children who are over the age of 12 as soon as possible, noting that they are "safe and effective."
"The known and potential benefits of COVID-19 vaccination outweigh the known and potential risks, including the possible risk of myocarditis or pericarditis," the CDC website said, referencing two heart inflammation conditions.
As of Tuesday, 62 percent of people in the United States who are over 12 years old have received at least one dose of a COVID-19 vaccine, although the vast majority of those vaccinations have been in people over 18 years old.
The CDC has advised mask-wearing in schools and some states have kept the requirement in place even after lifting mask mandates in other public places. The agency has recommended mask-wearing through the end of the 2020-2021 academic year and has yet to update its guidance for the start of the new year in fall.
With vaccinations on the rise and cases dropping, officials are weighing whether mask requirements in schools should remain in place come this fall. Maryland Governor Larry Hogan suspects children won't have to wear masks because positivity rates are below 1 percent. New Jersey Governor Phil Murphy also considers it possible that students won't have to wear masks in the fall, although at this time, his thought is that it will remain a requirement.
Newsweek, in partnership with NewsGuard, is dedicated to providing accurate and verifiable vaccine and health information. With NewsGuard's HealthGuard browser extension, users can verify if a website is a trustworthy source of health information. Visit the Newsweek VaxFacts website to learn more and to download the HealthGuard browser extension.