Marjorie Taylor Greene Urges Republicans to 'Leave Twitter NOW!' After Her Suspension
Congresswoman Marjorie Taylor Greene is calling on her fellow Republicans to voluntarily leave Twitter after she was permanently banned from the site.
In a Gettr post on Tuesday, Greene wrote that the social media giant "needs to learn a lesson." Gettr is a social media platform targeted to conservatives started by former Donald Trump aide Jason Miller.
"The truth is under attack and so are our Republican Conservative values," the Georgia representative wrote. "Twitter has censored millions of Conservative Americans for too long now without any restraint."
Greene continued, "Twitter is a danger to us all by deeming itself the judge of speech on its platform. It's time to end their abuse of power they were never given. Leave Twitter NOW!!!"
Twitter suspended Greene's personal account over the weekend for violating the company's policies on information relating to the coronavirus pandemic. The congresswoman falsely claimed Saturday that there "extremely high amounts of Covid vaccine deaths."
The site had previously suspended her for seven days for posting that vaccines were "failing" and suggesting that the Food and Drug Administration (FDA) not fully sign off on COVID-19 vaccines.
Greene's latest misinformation post was her "fifth strike" with Twitter, which is why the account has been permanently taken down.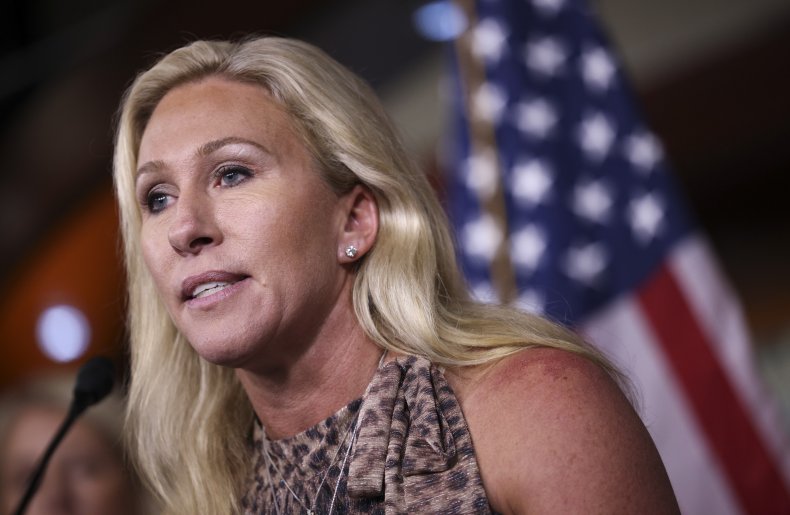 Former President Donald Trump, who has also been permanently banned from Twitter, defended Greene in a statement on Monday telling to her to "keep fighting."
"Twitter is a disgrace to democracy," Trump said. "They shouldn't be allowed to do business in this Country. Marjorie Taylor Greene has a huge constituency of honest, patriotic, hard-working people. They don't deserve what's happened to them on places like low-life Twitter and Facebook. Everybody should drop off of Twitter and Facebook. They're boring, have only a Radical Left point of view, and are hated by everyone. They are a disgrace to our Nation."
Trump was permanently suspended from Twitter days after the January 6 insurrection at the U.S. Capitol. He's also been barred from Facebook for at least two years, and the company has said it will only reinstate his account "if the risk to public safety has receded."
Greene also had a Facebook post removed just 24 hours after she was kicked off Twitter. In the post in question, Greene had repeated many of the false claims that she had posted in her final Twitter post.
"Facebook has joined Twitter in censoring me," Greene wrote on Gettr. "This is beyond censorship of speech."
Newsweek has reached out to Twitter for comment on Greene urging conservatives to leave the platform.
Update 01/04/22, 2:55 p.m. ET: This story was updated with more information and background.