Marjorie Taylor Greene Urges Supporters to 'Remember Kyle Rittenhouse', Shares Fundraising Page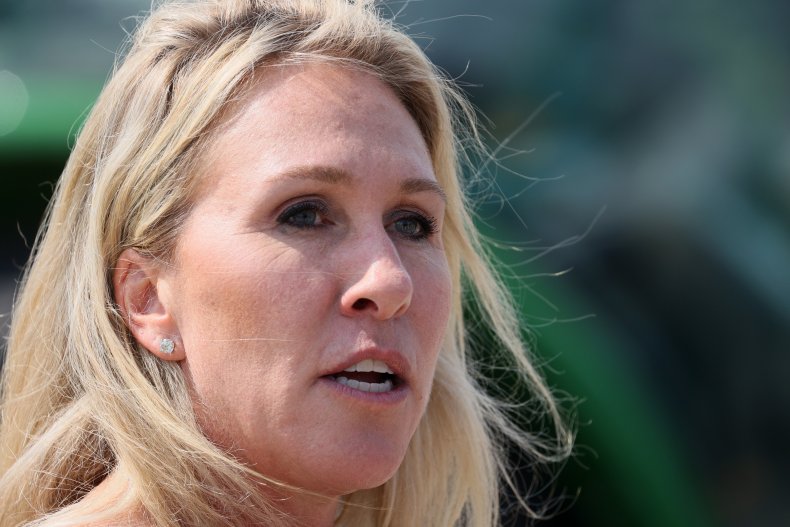 Rep. Marjorie Taylor Greene (R-Ga.) has praised Kyle Rittenhouse, accused of shooting three people, as a hero who "stepped forward" when "Democrats seeded chaos and stoked violence."
Rittenhouse is on trial for allegedly killing two during a Black Lives Matter protest in Kenosha, Wisconsin last year. Rittenhouse, who is 18 years old but was 17 at the time of the alleged murders, has insisted that he acted in self-defense when he allegedly killed protesters Anthony Huber and Joseph Rosenbaum and wounded Gaige Grosskreutz.
"Democrats seeded chaos and stoked violence in cities all over the country for a year," Greene tweeted. "Billions in damage, devastating communities, lawlessness & the media cheered it on. A boy stepped forward when most grown men stayed home. Remember Kyle Rittenhouse."
Greene also shared a link to a website taking donations for Rittenhouse, which describes him him as a victim of "Big Tech, a corrupt media, and dishonest politicians and prosecutors" who are "trying to censor, silence and ruin the life of Kyle Rittenhouse." The site calls Rittenhouse as "a patriotic American who bravely tried to defend his community."
The fatal shootings happened on August 25, 2020, during a protest in support of Jacob Blake, a Black man who survived his injuries but was left paralyzed after being shot by a white police officer seven times. Rittenhouse, who is white, traveled while armed with an assault rifle about 20 miles from his Antioch, Illinois home in response to social media calls to protect businesses from potential property damage caused by protesters.
After Rittenhouse was charged with murder, his case quickly became a cause célèbre for some prominent conservatives. Former President Donald Trump publicly expressed his support for Rittenhouse shortly after the fatal shootings took place and at one point "liked" a tweet that exclaimed, "Kyle Rittenhouse is a good example of why I decided to vote for Trump."
The Rittenhouse trial is set to begin on November 1. Rittenhouse has pleaded not guilty to all charges. A series of pre-trial hearings have been taking place to determine issues of jury selection and what evidence will be allowed at trial. This week, Kenosha County Circuit Court Judge Bruce Schroeder declined to dismiss a charge of illegal possession of a deadly weapon by a minor after Rittenhouse's defense argued that possession was legal due to hunting laws.
The judge also recently denied requests to send out questionnaires to potential jurors that could be used to determine bias and decided to exclude evidence of Rittenhouse's alleged association with far-right extremist group the Proud Boys. The judge has yet to rule on a request from the prosecution to allow a recording that allegedly shows Rittenhouse expressing a desire to shoot men he believed were shoplifting from a pharmacy 15 days prior to the Kenosha shootings.
Newsweek reached out to Kenosha County Assistant District Attorney Thomas Binger, who is prosecuting the Rittenhouse case, for comment.