Marjorie Taylor Greene Uses 'Just Say No' in Urging Americans to Reject COVID Vaccine
Georgia GOP Rep. Marjorie Taylor Greene posted another call for Americans to reject the COVID-19 vaccine, this time deploying the phrase "just say no," used in the 1980s by the Reagan administration in the war on drugs.
"Thousands of people are reporting very serious life changing vaccine side effects from taking covid vaccines. 5,946 deaths are reported on the CDC website. Social media is censoring their stories & the media is silent. Biden is going to homes to push shots. Just say NO!" Greene's full tweet read.
Whether the use of the phrase "just say no" was an intentional nod to its use during the Reagan administration is unclear. Newsweek reached out to Greene for comment, but has not yet received a response.
The phrase was part of the "Just Say No" campaign launched by President Reagan's wife, first lady Nancy Reagan, which encouraged children to simply respond with "no" when offered drugs, according to History.com.
Surveys also suggested that the usage of the phrase caused a jump in concern among the American population with regards to drug abuse, the website reported. The number of Americans who saw it as the nation's "number one problem" jumped from between 2 and 6 percent in 1985, to 64 percent in 1989.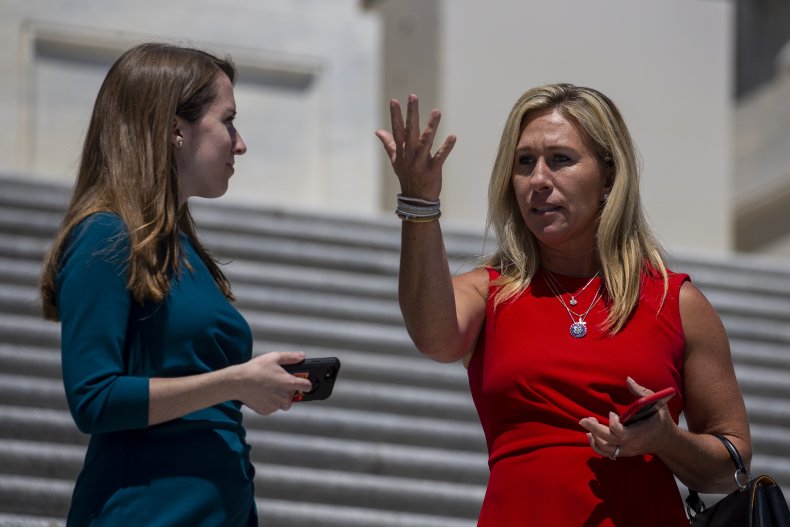 Greene's attempts to urge Americans away from receiving the vaccine have received mixed responses, with some agreeing with her statements and others asking Twitter to remove them for spreading disinformation.
One Twitter user noted the possible reference of Nancy Reagan's anti-drug slogan in the tweet, saying she wasn't sure if she was "surprised or confused" by its usage before countering Greene's message by urging others to receive the vaccination.
Greene has posted tweets urging Americans to refuse the vaccination before, some of which have prompted fellow Republicans to disagree with the claims of the vaccine's adverse health effects.
A previous tweet by Greene claiming the vaccine is harmful was refuted by GOP Congressman Adam Kinzinger of Illinois, who accused Greene of spreading "lies for cash and fame, leaving a trail of destruction."
The Centers for Disease Control and Prevention (CDC) noted on its website that while there have been 5,964 deaths of people reported after receiving the vaccine, the percentage of the fatalities is 0.0018 percent.
The CDC did also note recent reports indicating a "plausible causal relationship" between the Johnson & Johnson COVID-19 vaccine "and a rare and serious adverse event—blood clots with low platelets." However, "a review of available clinical information, including death certificates, autopsy, and medical records, has not established a causal link" to other COVID-19 vaccinations.