Marjorie Taylor Greene to Vote No on Domestic Terrorism Prevention Bill
After denying she promoted the January 6 insurrection, Republican Representative Marjorie Taylor Greene said she'll vote against a bill intended to combat domestic terrorist groups.
The firebrand Georgia representative said on Twitter Tuesday that she would be voting against the Domestic Terrorism Prevention Act of 2022 due to concerns of government overreach. Greene announced her opposition to the bill days after she testified under oath over her alleged role in seeking to overturn the 2020 presidential election.
The legislation is intended to better equip federal law enforcement agencies to address the growing domestic extremism and authorizes domestic terrorism offices in the Department of Justice (DOJ), Department of Homeland Security (DHS) and Federal Bureau of Investigation (FBI).
"We need to ensure those tasked with protecting our communities have the resources necessary to preemptively identify and thwart extremist violence wherever the threat appears, including from racially/ethnically motivated violent extremists and white supremacist groups," Illinois U.S. Representative Brad Schneider, the bill's Democratic sponsor, said in a statement this month.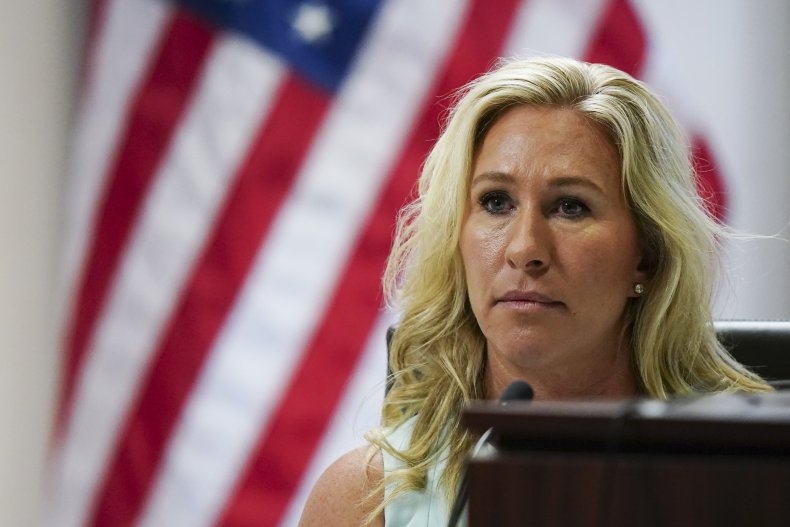 The legislation, which passed the House Judiciary Committee on a 21-17 vote, also requires biannual reporting on domestic terrorist threats and directs federal agencies to focus on the most significant dangers.
But Greene said in her tweet that the bill would "give unlimited money to the FBI, DOJ, and DHS to target anyone that challenges the Biden admins policies and commits a 'hate crime.'"
"It empowers the Biden's DOJ to train federal prosecutors on how to prosecute anyone they charge with "'domestic terrorism,'" she said in a followup tweet.
Greene said the bill contains vague definitions that could cover parents "telling a man to get out of our daughter's bathrooms. Or Trump supporters posting about elections."
On Friday, Greene, who has remained staunchly loyal to former President Donald Trump, was put under oath as she answered questions about her previous online activity as part of legal proceedings that could determine her political future.
A group of Georgia voters represented by legal advocacy group Free Speech For People earlier filed a lawsuit seeking to bar Greene from the ballot. The group is relying on a provision of the 14th Amendment that disqualifies anyone who has participated in insurrection from elected office.
During a hearing before an administrative law judge, an attorney for the group representing the Georgia voters argued that Greene "justified," "supported" and "promoted" the January 6 insurrection, sometimes using veiled language such as "1776."
Andrew Celli, an attorney representing the Georgia voters, pointed to her previous remarks posted online, telling people to flood the U.S. Capitol and to "stop the theft of the 2020 election."
"She was one of several leaders who gathered the kindling, who created the conditions that made it possible for there to be an explosion of violence at the Capitol on January 6," Celli told the judge.
Greene denied encouraging the insurrection, saying she only believes in "peaceful demonstration," adding, "I do not support violence."
James Bopp Jr., her attorney, said Greene was a victim of the attack on the Capitol and called the proceedings a "political show trial."
Newsweek has reached out to Schneider for a response.