Marjorie Taylor Greene Vows to 'Remove' GOP Senators Who Backed Gun Bill
Representative Marjorie Taylor Greene, a Georgia Republican, vowed to "remove" GOP senators from office for backing the bipartisan gun bill, describing the 15 lawmakers as "sellouts."
The Senate passed the bipartisan legislation late Thursday in a 65-33 vote, marking the most significant step toward gun reform from Congress in nearly three decades. Fifteen GOP senators, including Senate Minority Leader Mitch McConnell, voted in favor of the bill, despite the strong opposition of former President Donald Trump.
Because the House is controlled by Democrats and needs only a slim majority for legislation to pass, the bill is expected to be approved by that chamber as well. President Joe Biden has urged the House to pass the legislation swiftly and plans to sign it.
Greene, a staunch Trump loyalist, shared a video to Gettr on Thursday attacking the legislation and ripping the Republicans who support it. "To the Republican senators who are helping Biden take away our rights: We will remove you from office," the GOP congresswoman wrote.
In the video, Greene played footage of Senator John Cornyn getting booed at a Houston GOP event over his support for the bill. Cornyn was one of the lead Republican negotiators, along with Senator Thom Tillis of North Carolina.
"There were multiple Republican senators that just made a deal. They created a bill, and everything was baked in before they even let the public know what was in the bill," Greene said in the clip.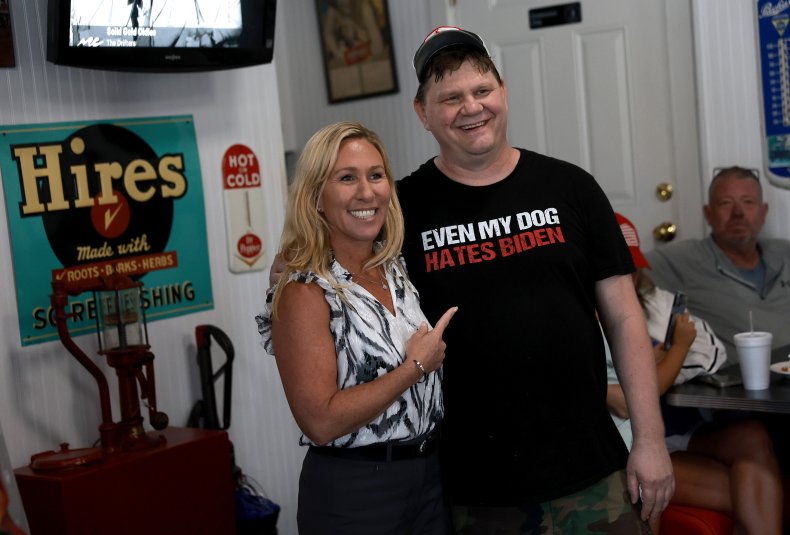 "This is the biggest Republican sellout. These people in the Senate, these Republicans, they're everything wrong with the Republican Party," she added.
Newsweek reached out to press representatives for Corny and Tillis for comment.
Trump issued similar criticism and warnings via his social media site, Truth Social.
"Mitch McConnell's push for Republican Senators to vote for Gun Control will be the final straw," he wrote on Thursday before the bill's passage. He added that the bill was "the FIRST STEP IN TAKING AWAY YOUR GUNS!"
"Republican Senators SHOULD NOT VOTE FOR THIS CAREER ENDING BILL!!!" Trump wrote.
In a previous Wednesday post, Trump wrote: "The deal on 'Gun Control' currently being structured and pushed in the Senate by Radical Left Democrats, with the help of Mitch McConnell, RINO Senator John Cornyn of Texas, and others, will go down in history as the first step in the movement to TAKE YOUR GUNS AWAY. Republicans, be careful what you wish for!!!" (RINO is an acronym for "Republican in name only.")
The bipartisan bill will toughen background checks for gun purchasers under 21, create grants to fund mental health programs and close the "boyfriend loophole" to prevent people convicted of domestic abuse from owning firearms. It would also provide funds to states for "crisis intervention programs," which include red flag laws in some states.
Polling data shows substantial bipartisan support for the legislation.
A survey conducted by Data for Progress from June 15 to 21 showed that 67 percent of likely voters said they "strongly" or "somewhat" support the bipartisan legislation. Eighty-four percent of Democrats, 65 percent of independents and 52 percent of Republicans held that opinion. Recent Fox News polling also showed substantial majority support among Americans for several proposed gun restrictions.
In Senate floor remarks Thursday, McConnell said that the negotiators for the bipartisan bill found the "sweet spot" and that it will "make our country safer without making it any less free."
"The legislation before us would make our communities and schools safer without laying one finger on the Second Amendment for law-abiding citizens. Its key provisions are hugely popular with the American people," the top Senate Republican said.
Cornyn hailed the passage of the bill he helped negotiate.
"We proved that we can, when sufficiently inspired by the people in the gallery and others when they say, 'Do something,' to come together and find common ground that will help keep our communities safer, protect our children, and save lives," the Texas Republican said in a statement.
Tillis also welcomed the legislation's success in the Senate.
"I am proud of my work to advance commonsense, bipartisan legislation that improves mental health care, strengthens school safety, and saves lives while protecting the Second Amendment rights of law-abiding North Carolinians," the lawmaker said in a statement.