Marjorie Taylor Greene Wants to Be on Capitol Riot Committee, Says It Needs 'Fighters'
Republicans have denounced the January 6 committee as a political play on the part of Democrats and Representative Marjorie Taylor Greene wants to serve on it to ensure Republicans "stand up" to Speaker of the House Nancy Pelosi.
Pelosi moved forward with the creation of the committee after Republicans blocked an effort to establish an independent commission to investigate the Capitol riot. House Minority Leader Kevin McCarthy hasn't announced if he'll appoint any Republicans to the committee, but putting Republicans loyal to former President Trump could help the GOP's effort to push back on efforts to blame the former president for the riot.
"The Republicans assigned to the J6 committee should be the toughest fighters that will stand up to Pelosi's witch-hunt 2.0 and defend Pres Trump, Republicans who objected, & political abuse against J6 protestors," Greene posted on Twitter.
The Georgia Republican added that the "people know who the fighters are" and that she asked McCarthy to put her on the committee.
Newsweek reached out to House Minority Leader Kevin McCarthy for comment but did not receive a response in time for publication.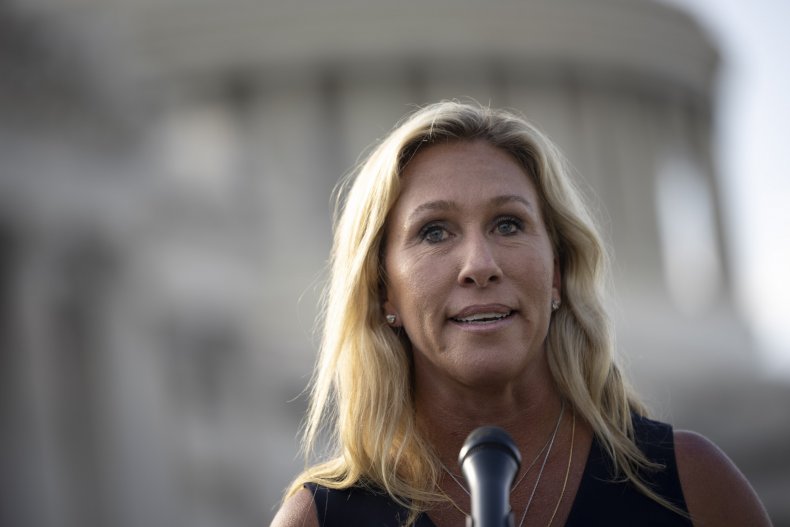 Greene, a staunch Trump supporter, has vocalized her support for those who have been arrested in connection with the Capitol riot, calling the terms of their imprisonment "abuse." She targeted the plan to create a commission as a "distraction" on behalf of Democrats to shift focus away from the "real damage" they're allegedly doing to the country.
More than 500 people have been charged for their alleged participation in the riot that left five people dead and prosecutors have vowed to leave no stone unturned in the investigation. While Republicans largely condemned the riot in the immediate aftermath, they've tempered their reaction in the days since as Democrats have used it to attack Trump.
Pelosi said the committee is intended to "find the truth" and members will be tasked with determining the causes of the attack and making recommendations to prevent a future one. The first hearing, scheduled to begin on July 27, will hear testimony from Capitol Police officers, and it's possible legislators could be subpoenaed as well.
McCarthy told Fox News on Tuesday that he hadn't decided if he'll appoint anyone to the committee, adding that he has "real concern" about the "scope of what we're looking at." He also criticized Pelosi's decision to put Reps. Jamie Raskin and Adam Schiff, who led the impeachment against Trump, on the committee. McCarthy said that it looks "more like an impeachment committee" than a committee hoping to get to the "bottom of the questions that are still out there."
Even if McCarthy does decide to put Republicans on the committee and thinks Greene should have a spot, it's unlikely she'll actually serve on it. Pelosi has veto power over McCarthy's appointments and Greene hasn't made a great impression on Democrats.
Greene was kicked off her congressional committees after she promoted and seemingly endorsed conspiracy theories about the Parkland shooting and violence against Democrats on Facebook. She's since been a vocal critic of Democrats and supports Trump's claim the election was stolen from him.
Regardless of McCarthy's decision whether to appoint or not appoint Republicans, at least one will be on the committee. Pelosi has selected Representative Liz Cheney, one of 10 Republicans in the House who voted to impeach Trump in January.
The Wyoming congresswoman was recently removed from her position as GOP conference chair after the impeachment and her appointment came under Republican scrutiny. McCarthy expressed surprise that she accepted and questioned whether Cheney aligned more with Democrats than the GOP.