Marjorie Taylor Greene Wants Women Who See Dishwashers as 'Blessing' to Oppose Biden Bills
Representative Marjorie Taylor Greene is pushing women who value household "blessings" to stop "being lazy" and demand that Republicans oppose the Democrats' infrastructure and social spending legislation.
Democrats are working against a Halloween deadline to enact President Joe Biden's economic agenda, which includes an infrastructure bill and a social spending and climate change package. While the infrastructure measure passed the Senate with Republican support, it has stalled in the House while legislators negotiate over the larger bill, which progressives want to include universal pre-K, Medicare expansion and other social safety net changes.
Greene, a vocal opponent of the legislation, told Steve Bannon on his War Room podcast that Americans are the "most blessed people" in the world and have "wonderful lives."
"If you're a woman listening to this show, you know a washing machine is a blessing. A dishwasher is a blessing. A car is a blessing," the Georgia Republican said. "We have got to stop being lazy. We have to stop this unbelievable Green New Deal."
The Green New Deal, an ambitious climate proposal, is a flashpoint for Greene, who sees it as a way to move America toward more governmental control. Biden's spending package currently includes the Clean Electricity Payment Program, a plan to lower greenhouse gas emissions by requiring eclectic utilities to convert from fossil fields to clean power sources. Failing to hit certain benchmarks would result in fines, while making a successful conversion would be rewarded with grants.
Greene called the Democrats' legislative plans the "destruction of America" and said climate proposals aren't only about electric vehicles. She told Bannon such legislation is also about "socialist programs" and "communism."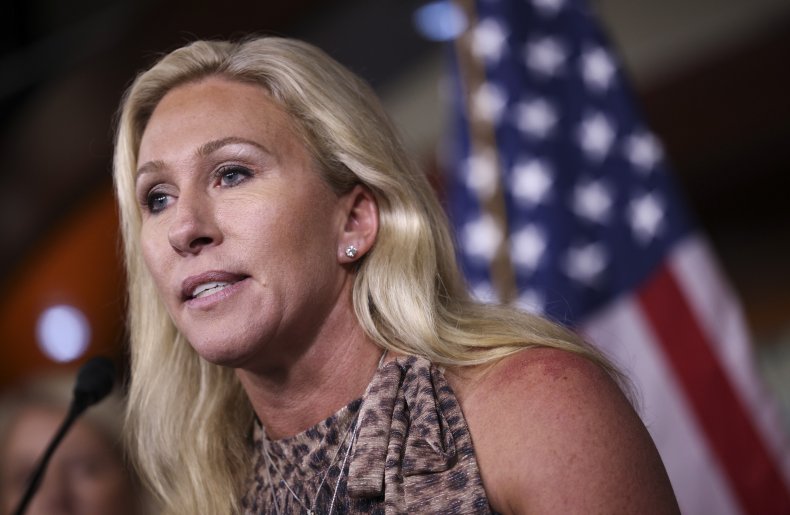 Along with programs aimed at combating climate change, the spending bill also includes two years of free community college, child care assistance and comprehensive paid leave.
Democrats are looking to advance the budget bill through the reconciliation process, which would allow them to pass it in the Senate without any Republican support. However, it would require all 50 senators who caucus with the Democrats to get on board, and Senators Joe Manchin and Kyrsten Sinema haven't signed onto the legislation.
In an effort to persuade the senators to vote yes on the budget package, Democrats in the House have delayed a vote on the bipartisan infrastructure bill. Led by Democrats, the measure garnered support from 19 Republicans, passing the Senate by a vote of 69-30.
On Bannon's podcast, Greene told voters to call "every single Republican member of Congress" on a daily basis and tell them they don't care if a road in their district gets paved, because "paving one road is not worth communism in America."
"You have to demand that Republicans stand up against it and tell them if they won't you're going to take them out," Greene said. "That is the only way forward."
With a majority in the House, Democrats don't need Republicans to pass the infrastructure bill, but progressives have threatened to withhold their support until an agreement is reached on the spending package. Representative Pramila Jayapal, chair of the Congressional Progressive Caucus, has said the two bills must move forward together or not at all.
Greene also set conditions for Democrats getting her vote on the infrastructure bill. In a tweet, she said she would vote for the measure if House Speaker Nancy Pelosi supported her Fire Fauci Act, expelled Representative Maxine Waters and put former President Donald Trump back in office.