Marjorie Taylor Greene Says WIC Scheme Makes Baby Formula Scarce For Others
Georgia Congresswoman Marjorie Taylor Greene voted against a bill that would help low-income mothers access baby formula amid the national shortage as she thinks it would unfairly target middle-class families.
Greene was one of nine Republicans who voted against the Access to Baby Formula Act (HR 7791) on Wednesday.
The bill, which still passed after getting 414 bipartisan votes of support in the House, would lessen restrictions implemented by the Special Supplemental Nutrition Program for Women, Infants, and Children (WIC), which limits the types of formulas those on the federal benefit program can buy.
Around half of all infant formula sold in the U.S. is purchased using WIC benefits.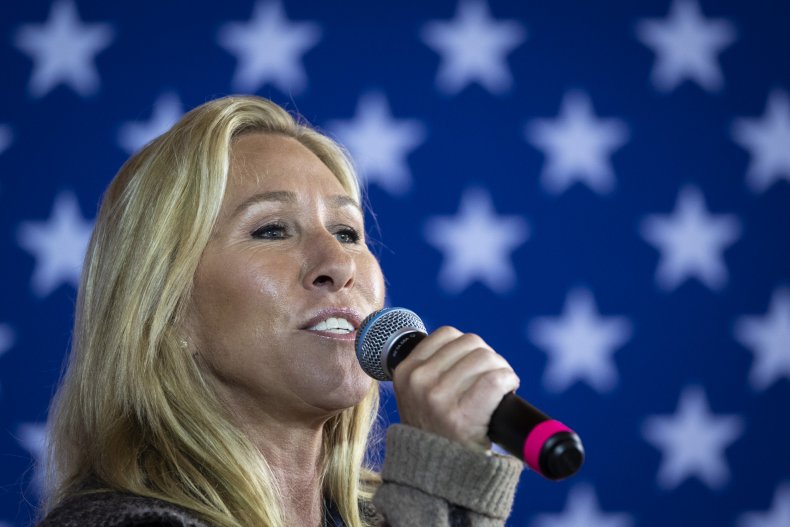 Speaking on her Real America's Voice show, Greene said she voted against the bill despite its "appealing" name while blaming the Biden administration, broken supply chains and "too much federal government control" for the current baby formula crisis.
Greene also described WIC as a key "problem" for the nationwide shortage because she thinks it will make it harder for those not using its benefits to purchase formulas.
"The government program is the largest customer for baby formula in the United States of America," Greene said.
"And now Joe Biden and his administration, their solution is making WIC an even bigger customer, when in reality many of the parents that can't buy baby formula for their baby, they're not on the WIC program.
"The WIC program is making it more difficult for them to buy baby formula because if you're on WIC, if you're someone that needs to be on that government assistance, you're allowed to buy as much baby formula as you want to with your WIC vouchers and they're increasing that for those parents," Greene added.
"But if you're not on WIC, you're limited and how many cans of baby formula you're allowed to buy."
Greene added that while WIC is doing a "good job" taking care of "the poorest in our country" and need federal assistance, it is middle-class families who are "getting hammered again," which is why she voted against the Access to Baby Formula Act.
"Middle-class parents are suffering. There's over 50 percent shortage of baby formula in many states, and it's the middle class that's getting screwed again by the Democrats and by Joe Biden's administration," Greene said.
Greene was also one of 192 Republicans who voted against passing a $28 million emergency spending bill to address the baby formula shortfall on Wednesday.
The Infant Formula Supplemental Appropriations Act (HR 7790) aimed to provide additional funding to the Food and Drug Administration in order to deal with the crisis.
Both bills will now go to the Senate for a vote after getting passed by the House.