Marjorie Taylor Greene Wonders if Congressmen Identify as 'Women of Color'
Representative Marjorie Taylor Greene, a Georgia Republican, questioned if Democratic Representative Eric Swalwell and Representative Adam Schiff identify as "women of color" after days-long back and forth with Representative Alexandria Ocasio-Cortez over GOP House committees.
Greene took to Twitter on Saturday to respond to an article posted by Newsmax, which referenced Ocasio-Cortez, a New York Democrat, and her thoughts about the removal of Representative Ilhan Omar, a Minnesota Democrat, from the Foreign Affairs Committee. Ocasio-Cortez said the removal was about "targeting women of color."
"We also removed Eric Swalwell and Adam Schiff, so actually it was equitable. But who knows, maybe they identify as 'women of color,'" the GOP lawmaker tweeted. "I mean after all, Democrats no longer support feminism. They support men beating and replacing women. The glass ceiling is real."
On Wednesday, the House GOP voted to strip Omar of her seat on the Foreign Affairs Committee, despite efforts from Democrats to keep the congresswoman on the panel. Meanwhile, Speaker of the House Kevin McCarthy previously blocked Schiff and Swalwell, both California Democrats, from rejoining the House Intelligence Committee once the GOP took control of the chamber in January.
While appointments to the intelligence panel are at the discretion of the House speaker, the action to remove Omar required a House vote.
Swalwell faced repeated scrutiny from some Republicans after a report in 2020 linked him to a Chinese intelligence operation. Swalwell, however, has said that the accusations against him stem from his frequent criticism of former President Donald Trump, a close ally of both McCarthy and Greene.
McCarthy has previously accused Schiff of lying "to the American public" in reference to his alleged support of the Steele dossier, also known as the Trump-Russia dossier, that alleged ties between the former president and Russia.
"While Adam Schiff and Eric Swalwell were busy turning the Intelligence Committee into an impeachment committee, they completely missed what was happening in Afghanistan. I am restoring [the] House Intel [Committee] to its original mission—to make sure America is protected and prepared," the House speaker tweeted last week.
House Majority Leader Steve Scalise said that the GOP has "no intention" of letting Swalwell, Schiff, and Omar serve on committees that deal with the nation's secrets.
"These committees are very unique in that they deal with our national secrets, they deal with very classified information," Scalise said. "And if people have shown a propensity to either espouse anti-American, antisemitic views or do things that have put themselves in compromised positions, including lying about classified information, it raises serious questions."
Republicans have long targeted Omar for her criticism of Israel, including her past remarks in which she suggested that GOP support of Israel was funded by donations from the American Israel Public Affairs Committee. She apologized for those comments in 2019, saying, "Anti-Semitism is real and I am grateful for Jewish allies and colleagues who are educating me on the painful history of anti-Semitic tropes."
While appearing on CNN's State of the Union last week, the Democratic lawmaker said she wasn't aware of "tropes about Jews and money" when she was asked about her previous comments.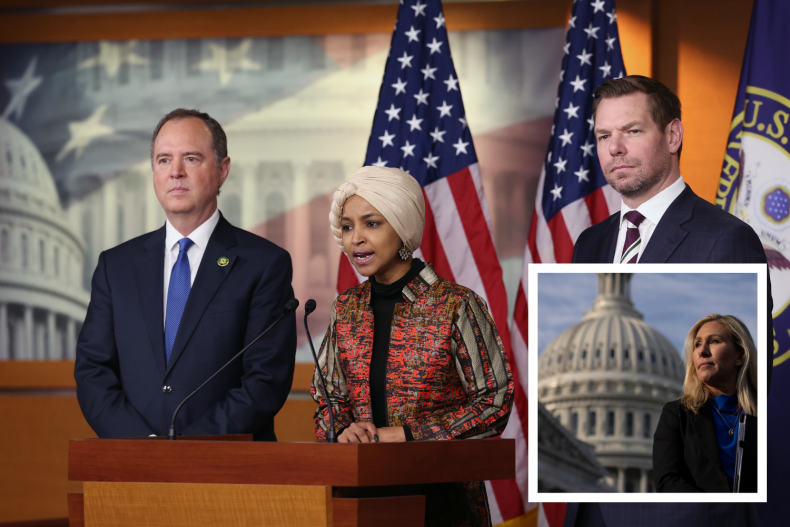 Political analyst Craig Agranoff told Newsweek on Saturday, "Many will argue her removal is an act of political revenge, but it shouldn't come as a surprise. McCarthy previously promised that if Republicans regained control of the House, he would remove Schiff, Swalwell, and Omar from their committee assignments, pointing to the fact that Democrats established a 'new standard' when they were in the majority by removing Republicans."
Agranoff continued: "Tit for tat. Two wrongs don't always make a right, but this certainly didn't come out of left field. MTG was most likely offensive to Dems, but Ilhan has also made incendiary remarks that offended Republicans."
Newsweek has reached out to Greene's press secretary for comment.