Marjorie Taylor Greene's 'Divorce' Plan is Limping Towards Obscurity
Marjorie Taylor Greene's proposal for an American "national divorce" has failed to attract much Republican support, while coming under fire from prominent conservative figures ranging from Liz Cheney to Steve Bannon.
The House Republican has suggested Republican and Democratic states should split, arguing "we are done" because of "the sick and disgusting woke culture issues shoved down our throats" by progressives.
Greene went on to expand on her plan in a 13-tweet long Twitter thread, in which she argued the federal government should lose most of its influence, except over the military and border security, with almost all other powers being devolved to the state level.
However, the plan has failed to attract any endorsements from the GOP leadership, and has been condemned by leading right-wing commentators.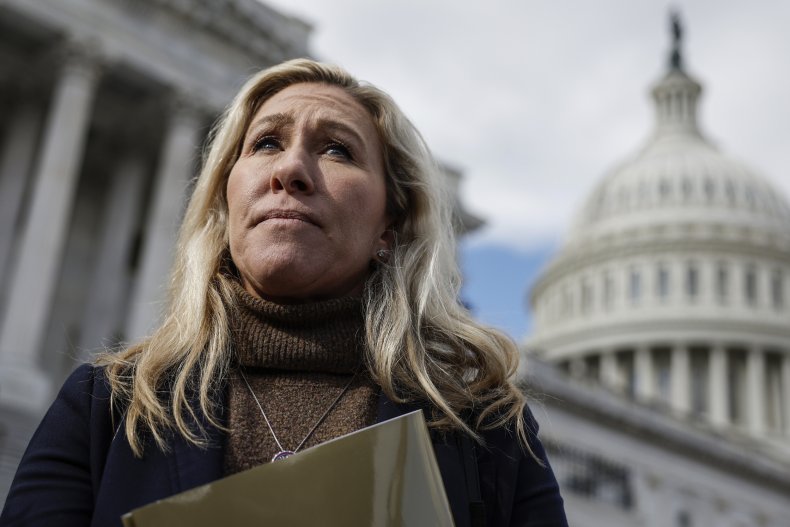 Speaking to Newsweek Jack Barlow, a professor of politics at Juniata College in Pennsylvania, described Greene's proposal as a "non-starter."
He said: "This is what those who opposed the Constitution wanted; but one might remind Rep. Greene that they lost that fight. This position also lost on the battlefield in 1865.
"It is not feasible under current interpretations of the Constitution; nor would it be possible to easily or fairly untangle all of the financial ties between the seceding states and the remaining union."
Republican Utah Governor Spencer Cox branded the plan "evil," while Liz Cheney, the anti-Trump former GOP congresswoman, called it "unconstitutional."
The proposal has been attacked by some of former president Donald Trump's most vocal supporters, including Steve Bannon, who briefly served as his chief White House advisor.
In a video exchange with fellow right-wing activists Bannon said he is "1 million percent opposed to this entire concept," insisting: "This country is not going to split."
He added: "You might as well go over to Arlington National Cemetery, go over to the section of the veterans at Gettysburg, and spit on their graves as to even mention that this country would be split apart."
Fox News presenter Laura Ingraham described the plan as "the last thing we need" during a discussion on her show, The Ingraham Angle.
She argued: "Now why would we want to embrace the states that gave us Jimmy Carter and Bill Clinton, but essentially give up on the states that gave us Reagan and Trump?"
Speaking to The Hill an unnamed "GOP strategist" pointed out Greene's home state of Georgia arguably leans blue, having two Democratic Senators. They suggested the House Republican is "just trying to stir the pot a bit," and said she might fund raise off it.
One of the few prominent conservatives to indicate support for Greene's proposal was Fox News host Sean Hannity, who noted how far apart Republicans and Democrats are on key issues.
He said: "I don't see middle ground on a lot of these issues. So what is the other answer if it's not a divorce?"
Marjorie Taylor Greene has been contacted for comment.