Marjorie Taylor Greene's Efforts to Disrupt Work of Congress Opposed by 18 Republicans
A group of 18 House Republicans has voted against Georgia Representative Marjorie Taylor Greene's most recent attempt to prematurely adjourn the House—her third such attempt over the last six days.
Each of Greene's attempts has been in protest of Democratic legislation and comments introduced in the lower congressional chamber. Each of her attempts has also disrupted congressional work by forcing House members to return to the floor to vote on the matter.
"I rise today to inform Democrats the radical path you're taking will cause you to lose in 2022," Greene said before asking the chamber to adjourn on Wednesday, according to Washington Post congressional reporter Paul Kane.
Before forcing Wednesday's adjournment vote, Greene also called President Joe Biden's $1.9 trillion COVID-19 stimulus bill "shameful" and claimed that Biden had placed the police on his "hit list," Kane reported.
While no House Republicans opposed Greene's first motion to adjourn and only two opposed her second motion, 18 House Republicans voted against her third motion.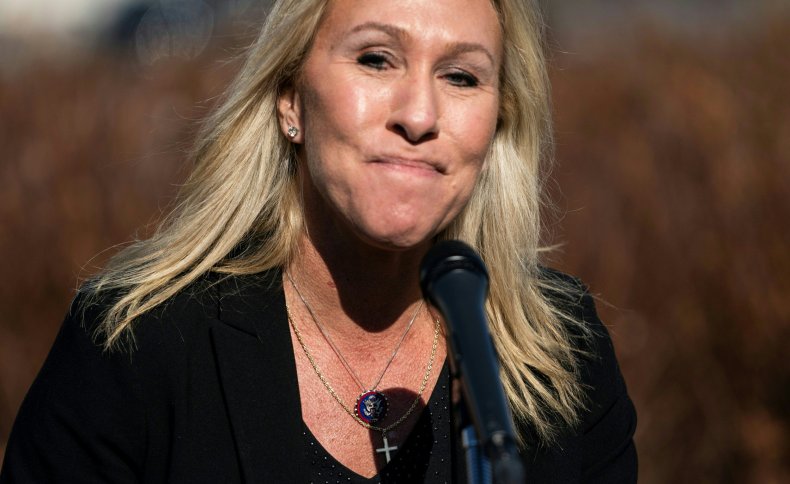 "She's increasingly irritating folks in her own conference," Kane wrote via Twitter. "Which, of course, she is fine with doing, she doesn't care."
The 18 Republican representatives who voted against Greene's third motion to adjourn include Liz Cheney of Wyoming, Darrell Issa of California and Adam Kinzinger of Illinois.
Kinzinger has previously called Greene a "RINO," a "Republican in Name Only." The initialism is an insult for GOP members who allegedly don't represent the political party's values. Kinzinger has also said that Greene's refusal to recognize Biden's 2020 electoral victory is rhetoric that "incites insurrections."
The increased opposition from Greene's own party may reflect growing opposition to the freshman Congress member.
During her first month in Congress, House Republican leaders were forced to explain Greene's past social media comments supporting the execution of Democratic political leaders and pushing extremist and anti-Semitic conspiracy theories. The comments caused Greene to be stripped of all her House committee assignments.
In her February 25 speech before forcing a second vote to adjourn, Greene criticized Democrats for accusing Republicans of inciting the January 6 insurrection at the Capitol.
"I was also a victim in this chamber when it happened, and we are very offended at your constant attacks on us for claiming we had anything to do with it, so that needs to stop," Greene said. "I'd also like to address the entire 117th Congress and say that the Equality Act is not about stopping discrimination. It's about causing discrimination against women and religious freedoms."
The Equality Act would ban anti-LGBTQ discrimination in employment, education, housing, public accommodations, jury selection, credit and federal programs.
The bill's opponents worry that it will allow transgender women to access spaces traditionally designated for cisgender women. They also worry the bill will force people of faith to do business with LGBTQ Americans, even if it violates their sincerely held religious beliefs.
Newsweek contacted Greene's office for comment.