Marjorie Taylor Greene's Fire Fauci Act Doubles its Co-Sponsors After Email Dump
Rep. Marjorie Taylor Greene's push to terminate Dr. Anthony Fauci, director of the National Institute of Allergy and Infectious Diseases (NIAID), is gaining some traction in the House among her Republican colleagues.
Greene has been a vocal critic of Fauci and introduced the Fire Fauci Act in May, a bill that would reduce his salary to $0. The release of thousands of pages of Fauci's emails only increased Republican criticism of the infectious disease expert and in the week since they were published, five more House Republicans signed onto Greene's bill.
Before the emails were released, Greene had four co-sponsors for the Fire Fauci Act. On Tuesday, that number increased to nine when Reps. Mo Brooks and Greg Steube agreed to co-sponsor the bill.
Reps. Buddy Carter, Bob Good and Matt Gaetz became co-sponsors on Friday. Carter told Newsweek he signed the legislation in part because America needs to "fully understand" what happened and why and "make sure it never happens again."
"To do this, we need strong leadership, not Dr. Fauci, who simply wants to stay relevant and control the lives of Americans. We have all seen with our own eyes now how troubling Fauci's emails are and it's past time for him to step aside," Carter said.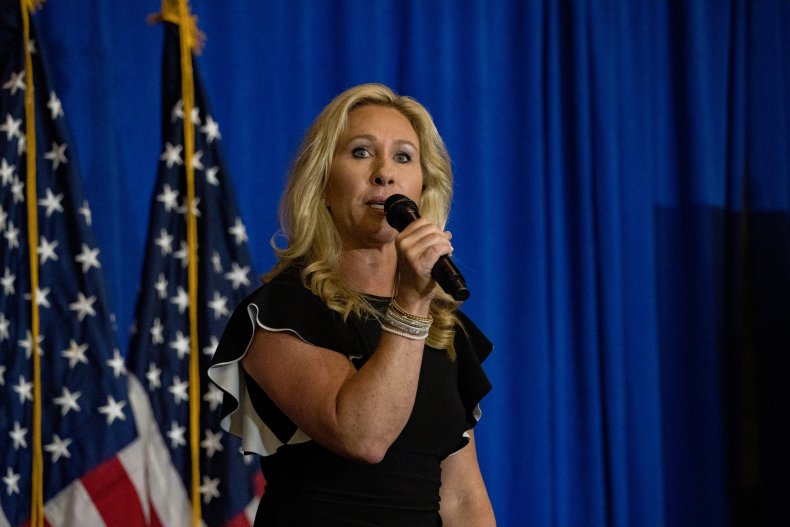 The bill wouldn't explicitly terminate Fauci from his position at the NIAID, but would reduce the salary of his position to $0 until a new director was named. It takes issue with Fauci's original advice that people not wear masks and changing the threshold for herd immunity.
Along with reducing his salary, Greene's bill would prompt an audit of Fauci's office's emails, text messages, policy memoranda and financial transactions from Oct. 2019 through Dec. 31.
Although Greene's seen additional support for her bill after Fauci's emails were published on June 1, it's unlikely to become a law. Passing it would require Democratic support and it's unlikely to receive it, as many Democrats are sticking by Fauci, and Greene has a tense relationship with the other side of the aisle.
Greene's not backing down from her criticism, though, and on Tuesday, advocated for Fauci to be held criminally liable for the pandemic. She told Steve Bannon on his podcast that Fauci "needs to get a lawyer" because she believes he's "criminally liable for what has happened with COVID-19."
"Anthony Fauci was using American tax dollars and sending it to the Wuhan lab to fund this research that was creating viruses," Greene said. "Why is there any need to create a virus that can spread rapidly through a population, make people sick and kill them? That's a bioweapon. So, we need to be very clear about what was the intent of COVID-19 and these viruses that they experiment with like some sort of Dr. Frankenstein experiments."
America's connection to the Wuhan Institute of Virology, where some believe the virus originated, has come under a spotlight in recent months. While the NIH did provide the Wuhan lab a grant, Fauci denied it was intended to be used for gain-of-function research. The controversial research involves manipulating pathogens to make them more dangerous to humans in the effort to better prepare for an outbreak.
Fauci acknowledged that it's possible COVID-19 was the result of a laboratory accident but has stood by the belief that it's more likely the result of a natural occurrence.