Marjorie Taylor Greene's Fire Fauci Act Gains Co-Sponsor: These Republicans Signed Onto the Bill
With Representative Louie Gohmert's support, Representative Marjorie Taylor Greene's "Fire Fauci Act" now has 10 Republican co-sponsors in the House of Representatives.
Greene, who has been a vocal critic of Dr. Anthony Fauci, director of the National Institute of Allergy and Infectious Diseases (NIAID), introduced the legislation in April without any co-sponsors. The recent release of thousands of Fauci's emails sparked additional support for the legislation and in the past two weeks, Greene went from four co-sponsors to 10.
The most recent addition to the list of cosponsors is Representative Louie Gohmert, who Greene thanked for his support on Twitter. Last week, Representatives Gregory Steube and Mo Brooks signed on as co-sponsors and on June 4, Representatives Buddy Carter, Bob Good and Matt Gaetz became co-sponsors.
"To do this, we need strong leadership, not Dr. Fauci, who simply wants to stay relevant and control the lives of Americans. We have all seen with our own eyes now how troubling Fauci's emails are and it's past time for him to step aside," Carter said in an email to Newsweek.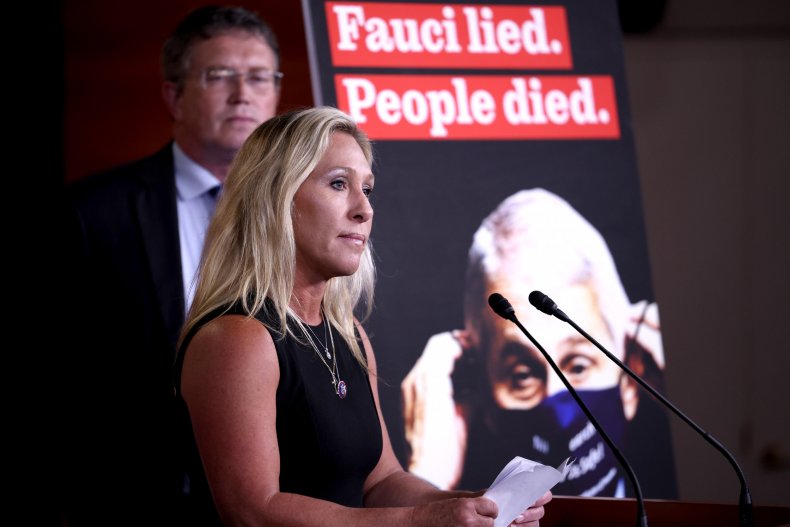 The Fire Fauci Act wouldn't actually terminate Fauci's role as on Biden's coronavirus response team or as director of the NIAID. If passed, Fauci could keep his job, the bill would just reduce his salary to $0. The salary for his position would remain at nothing until a new director takes over the role, as long as that new director is not still Fauci.
The legislation takes issue with Fauci's initial instruction for people to not wear masks because he later advised everyone should be wearing a mask. It also criticized Fauci for his changing threshold of when America would reach herd immunity.
Representative Thomas Massie was the first Republican to get on board as a co-sponsor, signing onto the legislation days after Greene introduced it. Representative Andy Biggs followed Massie's lead the following week. In May, Greene gained two more co-sponsors, Representatives Paul Gosar and Mary Miller.
"I'm grateful to my colleagues for co-sponsoring this bill because the American people deserve answers," Greene said at a press conference on Tuesday. "[Fauci] owes the American people a lot of answers but he also owes the world a lot of answers."
Fauci has dismissed criticism against him and stood by his response to the COVID-19 pandemic. While his changing stance on certain issues has come under fire, Fauci said that's a signal that he's following the scientific method and evolving his recommendations based on increased knowledge about the virus.
Greene's bill faces an uphill battle in the House given the Democratic majority and the White House's continued back of Fauci. With limited Republican support for her legislation, it's unlikely that the Fire Fauci Act will be become law.