Marjorie Taylor Greene's Fire Fauci Act Gets Cosponsor After Rand Paul, Fauci Fiery Exchange
Rep. Marjorie Taylor Greene's push to remove Dr. Anthony Fauci from his position at the National Institute of Allergy and Infectious Diseases [NIAID] gained another supporter, making it one of her most cosponsored pieces of legislation.
Greene's been a vocal critic of Fauci, who's advised every president since Ronald Reagan and is considered the nation's top infectious disease expert. She's taken issue with his evolving stance on the response to the pandemic and is attempting to reduce his salary to $0, a move that's garnered support from 15 other Republicans.
Rep. Ronny Jackson, of Texas, is the latest Republican to back Greene's bill and she thanked him for his support on Thursday, adding in a tweet that the "momentum is building."
Newsweek reached out to Jackson for comment but did not receive a response in time for publication.
Greene introduced the legislation in April and although called the "Fire Fauci Act," it wouldn't explicitly remove him as director of the NIAID. Instead, the bill would reduce the director's salary from more than $400,000 to $0 until a new director is named. It would also be the catalyst for an audit of Fauci's emails, policy memoranda and financial transactions from Oct. 1, 2019, through Dec. 31, 2019.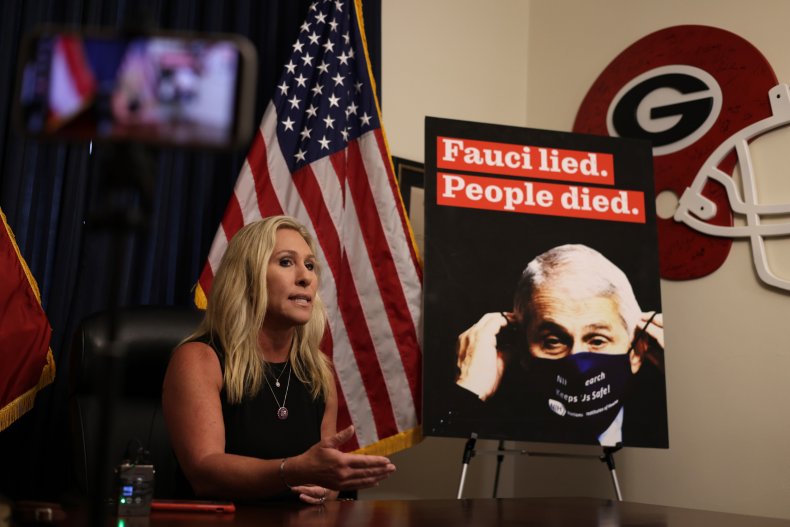 She introduced the bill without any cosponsors and the trend has been that it has garnered support after Fauci's made headlines. Before the release of Fauci's emails as part of multiple outlets' Freedom of Information requests, Greene's legislation only had four cosponsors. In the three weeks after the emails were released, that number had a threefold increase for a total of 13 cosponsors.
Rep. Lance Gooden, a Republican from Texas, signed onto the legislation on July 9 and Jackson's support came days after Fauci and Sen. Rand Paul, a Republican from Kentucky, got into a verbal altercation during a hearing.
On Tuesday, Paul opened his questioning of Fauci up with the reminder that it's a felony to lie to Congress and accused the public health expert of being dishonest when he previously told senators the National Institute of Health did not fund gain-of-function research at the Wuhan Institute of Virology. The lab has been targeted as a potential source of the pandemic, in part because it was doing work on bat coronaviruses in the same city where the first case of COVID-19 was reported.
Paul argued a 2017 paper co-authored by Dr. Shi Zhengli, a virologist at times referred to as "Bat Woman" for her work on bat coronaviruses, constituted gain-of-function research, which the NIH had a funding pause on at the time. Fauci pushed back, saying qualified staff "up and down the chain" evaluated the research and determined it was not gain-of-function.
Paul accused Fauci of "dancing around" the issue in an effort to obscure responsibility for the global deaths associated with COVID-19. Fauci retorted, saying he "totally resents" the "lie" Paul was propagating in asserting that a grant to the Wuhan lab caused the pandemic. Paul denied that's what he was implying, arguing he was actually highlighting that the NIH was funding gain-of-function research in Wuhan.
After the hearing, Paul announced he planned to send a letter to the Department of Justice asking for a criminal referral because Fauci "lied to Congress."