Anthony Aguero, a conservative videographer and documented ally of Rep. Marjorie Taylor Greene, was present during the U.S. Capitol attack on January 6 and proudly credited Donald Trump's supporters with initiating the violent uprising.
Videos shared to Aguero's Instagram and Facebook accounts on the day of, and following, the insurrection show crowds of former president Trump's proponents chanting outside of the federal complex, while Aguero is heard speaking and cheering in the background. Aguero seems to have recorded the former video before rioters breached the Capitol itself, and the latter after it took place.
A third video shared four days after the attack to Orbys, a social platform that bills itself as uncensored, appeared to show rioters as they actually entered the Capitol. While Aguero confirmed that he attended the riot as an "independent journalist" in comments to CNN, he claimed that videos shared to his social media pages were originally recorded by someone else. This is despite his off-camera dialogue and on-camera appearances in several clips.
Whether Aguero recorded the footage still available to watch on Orbys was not immediately clear, although he told followers that he "was able to make it inside the chambers" in a Facebook live video on January 6.
"I have footage that I'm going to provide for you guys as we made our way in there," he said. In an additional message posted to the video's comments section, Aguero wrote, "#SaveAmerica2021!! #NoBLM #NoAntifa."
Aguero discussed the insurrection in an another video posted to Facebook on January 7, which saw him walking through Washington, D.C. In it, he condemned Republican figures who denounced the Capitol attack and referred to rioters as "patriots" attempting to "stand up for their country."
He also praised Greene, the widely criticized congressional newcomer elected to represent Georgia's 14th district in the U.S. House last November. She was a vocal proponent of Trump and his policies throughout her congressional campaign. Shortly after she was sworn in earlier this year, Greene was stripped of her committee assignments for publicizing dangerous false conspiracy theories.
"I stand with people like Marjorie Taylor Greene, proudly," said Aguero, before going on to contradict the congresswoman's false claim that Antifa was behind the Capitol insurrection, rather than Trump's supporters.
"Admit it, we were all there. It was not Antifa, and it was not BLM. It was Trump supporters that did that yesterday," Aguero continued. "I'm the first to admit it, being one myself. I'd be a liar...I would be lying to you guys if I told you that it was Antifa. I would be lying to you guys if I told you that it was BLM, that it wasn't Trumpers, that it wasn't Republicans that were out here. I would be lying to you."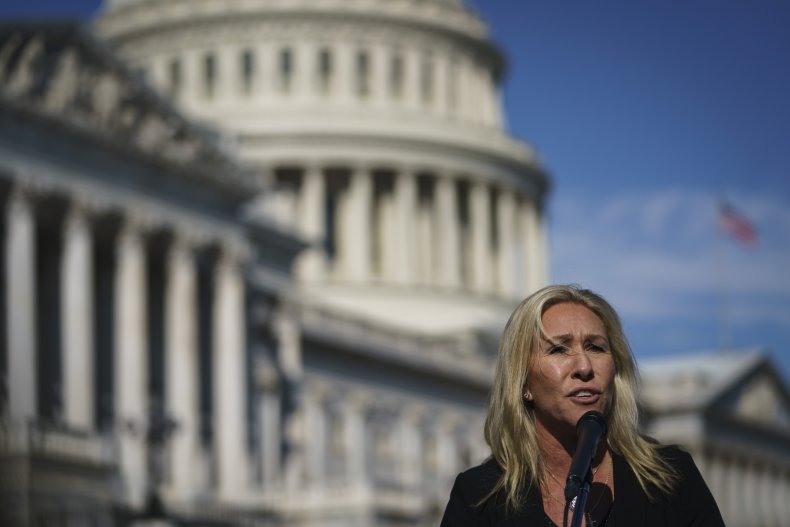 Greene and Aguero have collaborated in the past. In 2019, the congresswoman used his Facebook account to post a live video after the platform temporarily prohibited her from accessing her own. The two appeared in photos at the "March for Trump" rally that took place in Washington after the general election, as well as earlier pro-Trump events. They also hosted events that advocated for the former president's border wall initiative. According to CNN, Greene described Aguero as "amazing" and a "friend" in videos that have since been deleted, while Aguero referred to the congresswoman as "one of [his] closest friends" on social media.
Newsweek reached out to Aguero and Greene's office for comments but did not receive replies in time for publication.