Marjorie Taylor Greene's Outbursts Come Back to Haunt Her
Marjorie Taylor Greene said that she was recently "attacked" at a restaurant, prompting others to bring up similar outbursts by the Republican representative from Georgia.
"I was attacked in a restaurant tonight by an insane women and screamed at by her adult son," Greene wrote in a tweet. "They had no respect for the restaurant or the staff or the other people dining or people like me who simply have different political views. They are self righteous, insane, and completely out of control. I was sitting at my table, working with my staff, and never even noticed these people until they turned into demons," "People used to respect others even if they had different views. But not anymore. Our country is gone."
In response, David Hogg, a survivor of the Marjory Stoneman Douglas High School shooting in Parkland, Florida, in 2018, wrote about an incident in which he was confronted by Greene. "Hate when that happens. I was attacked and screamed at in 2018 by an insane woman named Marjorie Taylor Greene. She had no respect for the privacy of me as an 18 year old school shooting survivor or my staff. She was self righteous, insane, and completely out of control," Hogg wrote.
The comments in response to Greene's tweet came weeks after she was seen interrupting President Joe Biden's State of the Union address.
"You lie! You lie! Liar," Greene was heard shouting at Biden after he said Republicans want to cut Medicare and Social Security.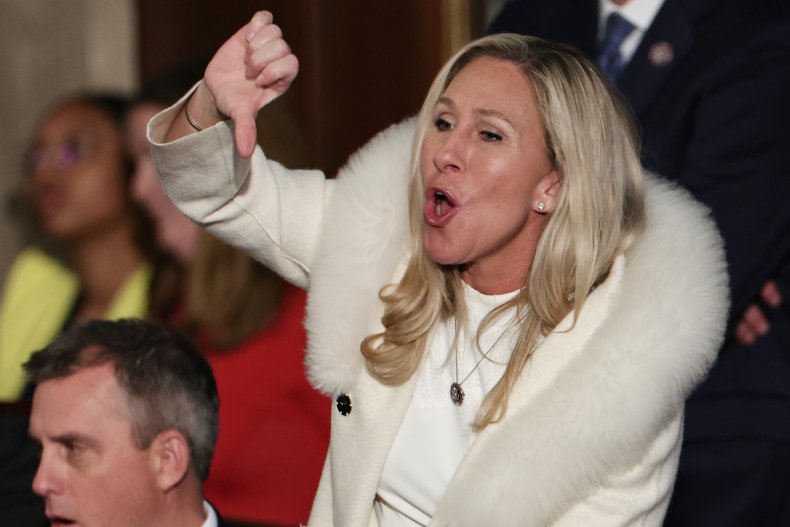 "People are pissed off and for the president of the United States to come into the people's House and lie like he did about the economy, the border and then act like he's terrified of China and unwilling to talk about the fact that they spied on us last night, yeah," Greene said in response to her interruptions. "He got exactly what he deserved."
Following Greene's tweet about being attacked on Monday, some other Twitter users brought up her comments during the State of the Union.
"....says the woman who screamed "Liar!" at the President of the United States during the State of the Union Address," Twitter user Bernie Tafoya wrote.
Journalist Guillermo Fesser had a similar response and wrote, "Didn't you screamed and shout "liar" to the President of the United States during the State of the Union? Politicians are roll models who set the path."
Greene's deputy chief of staff Nick Dyer told NBC news that a woman started "berating" the Republican representative after she finished dinner, and the woman's son was "screaming expletives at the top of his lungs."
"The congresswoman deserves to be able to eat at a restaurant in peace. And giving the location would only make the restaurant a target and encourage people to look for her there," Dyer told NBC News.
When reached by for comment, Dyer told Newsweek: "Newsweek is a Twitter aggregator that only pushes left-wing propaganda. You should be ashamed of yourselves."