'Is Our School Really Safe?': In Wake of Columbine, Parkland Wondered About Campus Safety Decades Before 2018 Tragedy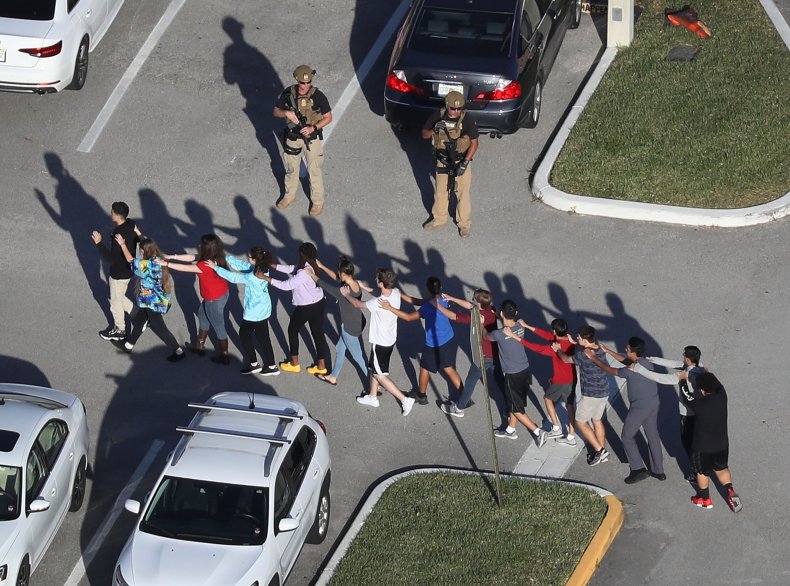 In an eerie forewarning of the tragic shooting that would later unfold at Marjory Stoneman Douglas High School in Parkland, Florida, the school's student newspaper in 1999 documented rising unease about campus safety around one month after the massacre at Columbine.
The Courier, then Parkland's student paper, considered: Could something like what happened there happen here?
"I really don't feed safe anymore sending my son to public school after what happened at Columbine," one concerned parent said in an interview with the paper in 1999.
In an excerpt from the student newspaper at Marjory Stoneman Douglas High School in 1999, one parent worries about school safety in the wake of the Columbine shooting.
The Courier
Nineteen years later, on Valentine's Day, a 19-year-old gunman killed 17 students and educators at Marjory Stoneman Douglas. The anniversary of that shooting is Friday.
Delaney Tarr, a survivor of the 2018 shooting in Parkland, reviewed the original articles at Newsweek's request, remarking that the parallels between then and now are "absolutely insane."
"There's always something that's a little unsettling about looking at a piece from a while ago and thinking, 'This is still applicable today,'" Tarr, a co-founder of the March For Our Lives movement, said.
In the pages of the paper's June 1999 edition, students, parents and educators were consumed with divergent explanations for the depravity of the shooting at Columbine High School in Littleton, Colorado: Violent subcultures such as video games need to be reined in; the decay of family values breeds deviancy; hardening schools is not the answer.
Ricocheting around the public consciousness, these notions are stubbornly similar to the kinds of conversations had today. The same battles waged publicly over the root causes of active shooter culture still divide along political and generational lines. In some respects, these articles in the student paper show how little the public dialogue around gun violence has evolved.
Many at the time became burdened with the question: Could it happen here? Nineteen years later, it would.
"Never did I think, walking through those halls of that school, that there could be someone with a semi-automatic weapon gunning down my classmates," Galena Mosovich, a Marjory Stoneman Douglas alumna who wrote for The Courier in 1999, told Newsweek. "Never. It was just not possible."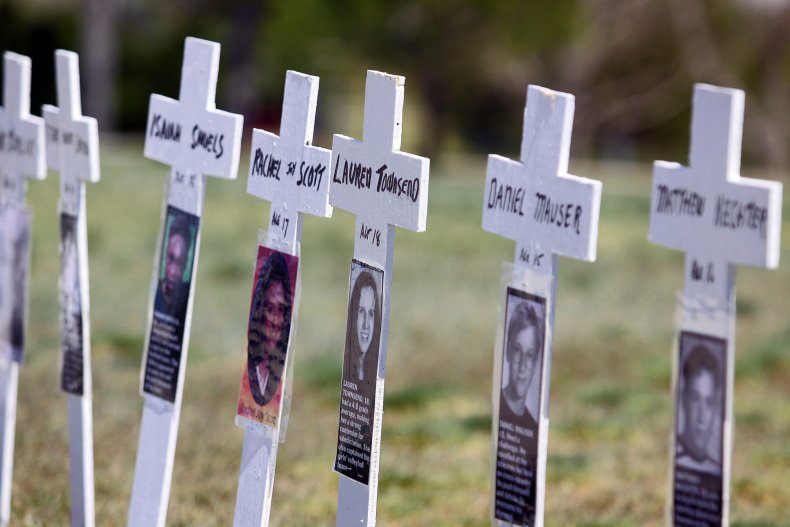 One of the most comprehensive databases of mass shootings, compiled by researchers at Hamline University, in St. Paul, Minnesota, found that these incidents are becoming alarmingly more frequent, and deadly. Other research has produced some disagreement about the frequency of mass shootings today compared to prior decades, often due to definitional problems.
One-third of all mass public shootings contained in the database occurred within the past 10 years. Since 1966, the deadliest years for mass public shootings were 2017 and 2018.
Notwithstanding countervailing research about their frequency, the impact of mass shootings on the public psyche is clearer: The appearance of the term "mass shooting" in print media has increased precipitously since 2010, according to an analysis by FiveThirtyEight.
When news outlets invite grieving families to opine on the senselessness that unfolds after a gunman storms a house of worship, or a school, they often urge viewers not to dismiss the idea of a shooting happening in their community.
"If you think it can't happen in your state or in your community, you're wrong," Sandy Phillips, whose daughter was killed in the Aurora, Colorado, movie theater shooting in 2012, said in an interview many years later.
In 1999, Parkland's paper wondered the same thing: "Is our school really safe? Littleton tragedy raises concerns."

Two articles examining the causes of public violence and potential solutions to future tragedies were featured in the June edition.
Anxieties about militarizing places of learning were evidently top of mind for Parkland educators at the time. Calls for implementing visible security measures had to be balanced against the preservation of school culture.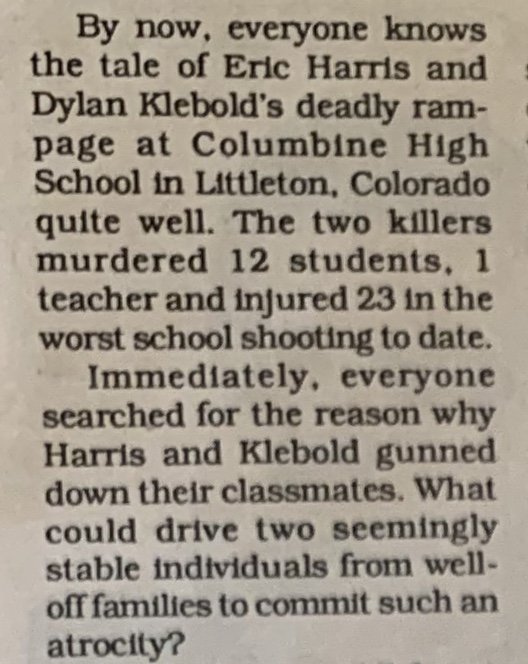 In an excerpt from Parkland's student newspaper in 1999, one column contemplates social factors deemed by the public to be responsible for the shooting at Columbine High School.
The Courier
"We do not want to create an armed campus," Sherry Clarke, then school's principal, said in The Courier. "Having appropriate security measures and devices is important, but it is not the only answer."
Another article in the same issue took stock of the ills that were popularly indicated as causes for social alienation and, ultimately, mass shootings.
"What could drive two seemingly stable individuals from well-off families to commit such an atrocity?" the column's author wondered.
Responding to diatribes about "the internet," video games, death metal and parental responsibility, the article noted how Columbine helped to spur a "blame game" that ultimately distracted the public from discussing real solutions.
"There was this rule put into place where no one could come to school in a trench coat anymore," Mosovich recalled about one way the school reacted to Columbine. "It just seemed ridiculous."
If the common anxieties linking Parkland survivors to their 1999 counterparts may be difficult to overlook, the differences between the generations may be equally as important.
The slaughter at Columbine sparked a culture of fear and paranoia. The Parkland shooting may have sparked a culture of resilience.
"I think that the underlying message for our generation was that it's futile to fight against this act of depravity," Mosovich said. "It's absolutely incredible that the Parkland movement was able to happen. It's almost unbelievable that it happened."
Both Mosovich and Tarr pegged the rise of social media as a critical factor in the ability of Parkland students to organize in defiance of the expectation of inaction that had preceded them.
While shootings in decades prior may have served as a vector for isolation, platforms like Twitter and Facebook allow these incidents to unify survivors. Reading the work of Mosovich's colleagues, Tarr expressed hope that her efforts may also, one day, be able to reach across generational lines.
"I want someone 20 years from now to read my work and writing and think, 'Wow, that's a problem I don't have to deal with anymore,' to see it and think of the issue of gun violence as something that is obsolete," she said. "Columbine was unfortunately a catalyst for every gun violence prevention movement. But Parkland was, for us, the straw that broke the camel's back."
Newsweek senior reporter James LaPorta contributed to this article.