Who Is Mark Anthony Conditt? Austin Bombing Suspect Identified by Police
Updated | Police identified Mark Anthony Conditt as the suspected serial bomber in Austin, Texas, Wednesday, according to the Wall Street Journal. Conditt, a 23-year-old white male from Pflugerville, Texas, was killed when a bomb detonated as a SWAT team surrounded his vehicle just off a highway in the city of Round Rock, north of Austin.
Austin Police Chief Brian Manley said investigators had identified Conditt—initially reported to be 24, though public records show he is a year younger—as a potential suspect in the hours before the final confrontation.
Pflugerville Mayor Victor Gonzales told the Associated Press police had surveillance on the home overnight on Tuesday, March 20. The mayor also said he lived two blocks away from the bomber in the Old Town area of Pflugerville.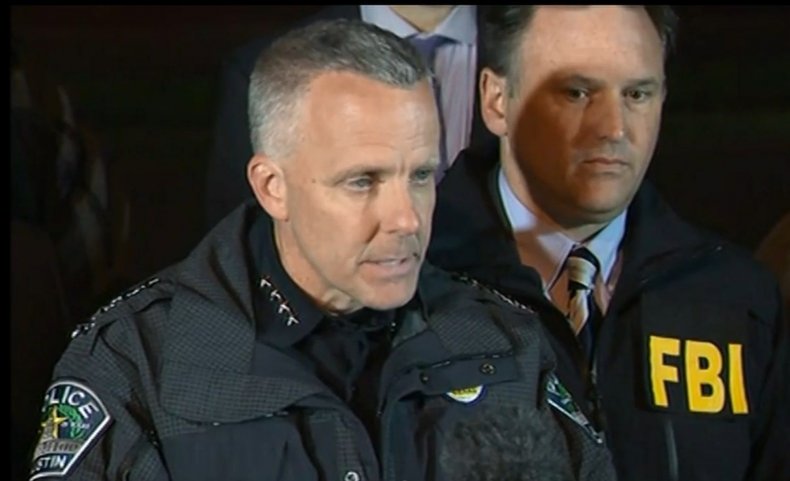 Conditt was home-schooled before attending Austin Community College, reported the Austin American-Statesman. A neighbor whose children grew up playing with Conditt in Pflugerville said he was a nice kid from a "great family."
The Statesman also reported that Conditt and his father Pat bought a $69,000 property in the local area and the two built the house in which the suspected bomber lived with two roommates.
What appears to be Conditt's profile on a jobs website called Mighty Recruiter says he has a diploma from Austin Community College's Northridge Campus.
The profile also says he worked as "a Coach and as a Computer Repair Technician" before his most recent position as "a Purchasing Agent/buyer/shipping and Receiving" with an Austin company called Crux Semiconductor.
A Facebook post from 2013 by Conditt's mother, Danene, notes the compeltion of his schooling: "I officially graduated Mark from High School on Friday. 1 down, 3 to go. He has 30 hrs of college credit too, but he's thinking of taking some time to figure out what he wants to do....maybe a mission trip. Thanks to everyone for your support over the years."
A short-lived blog belonging to Conditt called "Defining my Stance", last updated in 2012, contains posts including "Why gay marriage should be illegal," "An argument for the Death Penalty," and "Why we might want to consider doing away with Sex Offender Registration."
The profile page of the blog says: "My name is Mark Conditt. I enjoy cycling, parkour, tennis, reading, and listening to music. I am not that politically inclined. I view myself as a conservative, but I don't think I have enough information to defend my stance as well as it should be defended. The reasons I am taking this class is because I want to understand the U.S. government, and I hope that it will help me clarify my stance, and then defend it."
After a campaign of bombings, and with Conditt the chief suspect, police identified his vehicle and located it at a hotel in Round Rock, where they waited for him to make a move. As Conditt drove away, police followed, awaiting support from a tactical team. Conditt pulled over on Interstate 35, and the SWAT team moved in. Conditt then appears to have detonated a bomb, killing himself and knocking back one of the SWAT team in the blast. Officers opened fire.
Conditt is alleged to be responsible for a series of deadly bombings in the Austin area during March. CCTV images of the suspect from a FedEx office in south Austin show a blond white male, potentially in a wig, wearing a baseball cap, green T-shirt and jeans as he sends a parcel.
His motive is unknown, and Manley said investigators could not yet confirm that he worked alone. They believe he built the bombs himself.
The first package bomb exploded on March 2 at 6:55 a.m., killing Anthony Stephan House, 39, at his home on the 1100 block of Haverford Drive in Austin.
On March 12, Draylen Mason, 17, was killed, and a woman seriously injured in a package-bomb explosion in the kitchen of a home on the 4800 block of Oldfort Hill Drive at 6:44 a.m.
At 11:50 a.m. the same day, Esperanza Herrera, 75, was severely injured in a package explosion while visiting her mother's home on the 6700 block of Galindo Street.
Two men in their 20s were seriously injured by the explosion on the 4800 block of Dawn Song Drive at about 8:30 p.m. on March 18.
Police said the device was left on the side of the road, and the two men were either cycling or pushing their bikes when the explosion occurred.
Both patients are in serious but not life-threatening condition, a spokesperson at St. David's South Austin Medical Center told CNN.
One person received a minor injury at a FedEx distribution facility in San Antonio on March 20 when a parcel destined for Austin exploded at around 12:30 a.m.
It contained an incendiary device. Police were called to a second suspicious package at a FedEx warehouse in Austin later that afternoon and found it contained a bomb.
This article has been updated to include more background about the bomber, clarify his age, and add the mayor's comments.