Mark Consuelos Pokes Fun at Ryan Seacrest as He Steps Into 'Live' Role
Mark Consuelos ribbed Ryan Seacrest over his shoe size as he dedicated an Instagram post to the longtime broadcaster amid news he is set to depart the popular daytime show Live with Kelly and Ryan.
Seacrest, 48, announced on Thursday that he would be exiting the New York City-based ABC show—which he joined in 2017—ahead of moving back to Los Angeles in preparation for American Idol live shows this spring.
It was announced on the same day that Consuelos, 51, would step in as Seacrest's permanent replacement on Live. Consuelos' wife, Kelly Ripa, has co-hosted the program in 2001, when she started out alongside late TV personality Regis Philbin.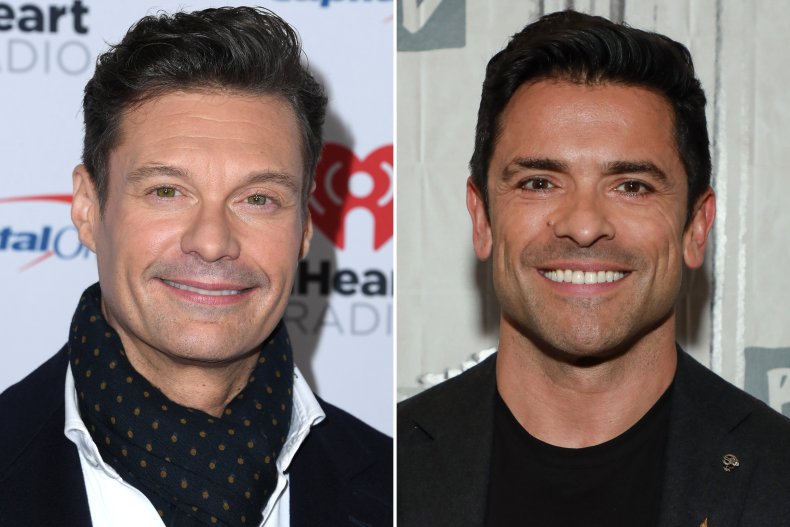 In sharing the news on the show, Seacrest said, per Variety: "Working alongside Kelly over the past six years has been a dream job and one of the highlights of my career. She has been an amazing partner, friend, and confidant, and although we will always be a part of each other's lives, I will miss our mornings together."
"I also want to thank [Live executive producer] Michael Gelman and the entire staff and crew—we've made memories to last a lifetime, met some of the most incredible people and had the warmest welcome into the homes of so many viewers across America," he added. "It's been a memorable ride and now I'm excited to pass the baton to Kelly's 'real' husband, Mark."
As the news broke, actor Consuelos took to Instagram to share a photo of himself, Seacrest and Ripa, 52, in costume as he honored the departing host.
"Congrats on your next chapter @ryanseacrest. I love you like a brother," Consuelos wrote. "I know I have some big shoes to fill ... well actually they're only a size 9, but you know what I mean."
Turning his attention to his wife, Consuelos added: "@kellyripa my ride or die. This is going to be amazing! I can't believe after all these years of listening to you talk for free, I found a way to get paid for it. Is this a great country or what?"
Ripa, 52, stated of Seacrest: "I'm so grateful to have spent the last six years beside my dear friend of too many decades to count and will miss starting my days with Ryan. Ryan's energy, passion and love for entertainment is one-of-a-kind."
"I can't thank you enough on all of our behalf," she said on Thursday's installment of Live, per People. "There is nobody else like you. There is nobody who can really do what you do. I know you in real life as well as TV life. I say this about very few people: what you see is what you get. This is not an act, this is a good man. I am so endlessly impressed by you."
Consuelos will be Ripa's third Live co-host after she stepped in to join Philbin as a replacement for Kathie Lee Gifford back in 2001. After a decade alongside Ripa, Philbin, who passed away in July 2020, exited the show in 2011.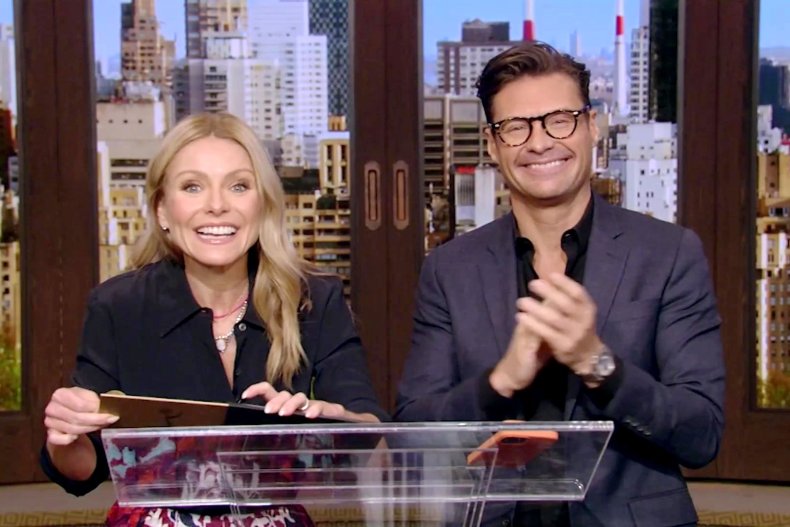 Michael Strahan stepped in as Ripa's co-host from 2012, before departing in 2016 to join the Good Morning America lineup as a fulltime co-presenter.
Almost one year after Strahan's departure, Seacrest joined Live, initially signing up for three years and eventually remaining onboard for six.
With previous guest host Consuelos joining the show permanently, the daytime favorite will now officially be rebranded as Live with Kelly and Mark.
"As a fan-favorite guest host for years, Mark is no stranger to the Live family," producer Gelman said in a statement. "Having him join the show is so special for us and we're sure that viewers will feel the same."
"Goodbyes are never easy, but we look forward to welcoming Ryan back regularly with open arms," Gelman added.