Mark Cuban Calls Cryptocurrencies Crash the 'Great Unwind' as Bitcoin, Dogecoin Plummet
Billionaire entrepreneur Mark Cuban called the crash of cryptocurrencies the "Great Unwind," as Bitcoin, Dogecoin and Ethereum have all plummeted.
Over the past weeks, many prominent cryptocurrencies have seen a steep drop in their value. Bitcoin's price fell from more than $46,000 a week ago to less than $33,000 as of the time of writing. Dogecoin fell precipitously as well, declining from north of $0.50 on May 16 to less than $0.30 today, while Ethereum has dipped from more than $3,500 last week to now hovering around $2,000.
"I think this is the 'Great Unwind'. Traders borrow to buy Eth, used eth to borrow alt/stable coin, used that to LP a high APY Pair, took the SLPs and staked them to maxout yield. The minute Eth drops to their Tragic Number, they had to Unwind. Unstake, Remove Liqudity, Repay," Cuban, who is worth about $4.4 billion according to Forbes, tweeted on Sunday.
The billionaire is well-known as one of the main "shark-investors" on the popular ABC reality TV series Shark Tank. Cuban also owns the NBA's Dallas Mavericks.
Cuban's comment came in response to a post from Larry Cermak, the director of research at The Block, which describes itself as the "first and final word in digital assets." Cermak had retweeted a February post in which he wrote: "The implication of doing 1:1 forks of Ethereum projects but on all the other competing L1s are actually larger than people realize. There are a sh*t ton of L1s and valuations are already stretched out even on Ethereum. The dilution of buyers and money can IMO cause serious issues."
Captioning his retweet, Cermak added: "This took much longer than I thought but IMO a big reason for why we're seeing 60% super quick crashes is that there was just way too many projects stretched to crazy valuations and not enough liquidity to support the prices when new demand dries up. Add leverage and voila"
In a follow-up post to his initial comment, Cuban wrote: "It gets worse when a Double Tragic Number strikes those who have been in long enough to not think they would ever get hit. When they get hit that means most of the dry powder that was being used to hold support levels is unwound too."
Cuban later told Newsweek in an email that "the more utility the platform has the more successful it will be."
"At the end of the day all crypto is software and the most successful software has happy users that can't live without it and are willing to pay enough to keep them vibrant," he wrote. "If there is one thing that crypto enthusiasts lose track of, it's that at its base, there are a lot of participants from token holders to validators, miners and others all get rewards [sic]."
"Those rewards only have value if there is enough revenue coming in," Cuban added. "So speculation aside, the best platforms will do well over the long term."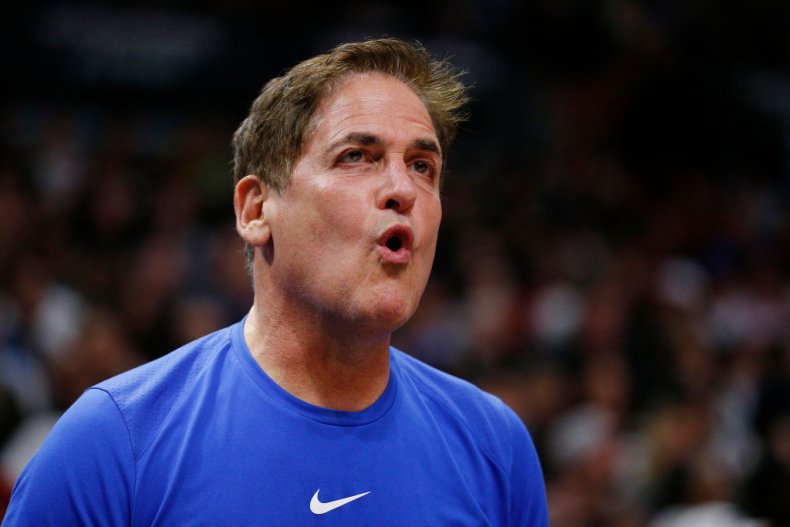 Bitcoin was the first decentralized cryptocurrency and was released as open-source software in 2009. Although it was initially worth mere pennies, one bitcoin has soared to be worth tens of thousands of dollars today, with its value peaking earlier this year to more than $63,000.
Other cryptocurrencies—such as Dogecoin and Ethereum—have become popular with investors partially due to their significantly lower price and the hope that their value will soar in the coming years. But the cryptocurrency market remains volatile, with the value of the various coins spiking and dropping rapidly on a regular basis.