Mark Cuban on Mavericks Fans Against NBA Players Kneeling During Anthem: 'Bye'
Mark Cuban took a stand on social media on Sunday, defending the right of players on the Dallas Mavericks to take a knee during the national anthem.
Cuban's tweet came in response to Dallas radio personality Mark Davis, who tweeted at Cuban on Sunday about the possibility that players could kneel during "The Star-Spangled Banner" when the NBA resumes its 2019-2020 season in Orlando, Florida, later this month. Davis assumed that Cuban would make sure his NBA team wouldn't take a knee.
"I am so ready to be be in on this year's #Mavericks home stretch: so much promise, so much personality," Davis tweeted. "But the minute one player kneels during the anthem, I am OUT. Surely @mcuban can lead the way for #Mavs, #NBA to do whatever gesture they wish without insulting the nation."
The Mavericks owner and Shark Tank personality dismissed Davis' tweet, simply replying, "Bye."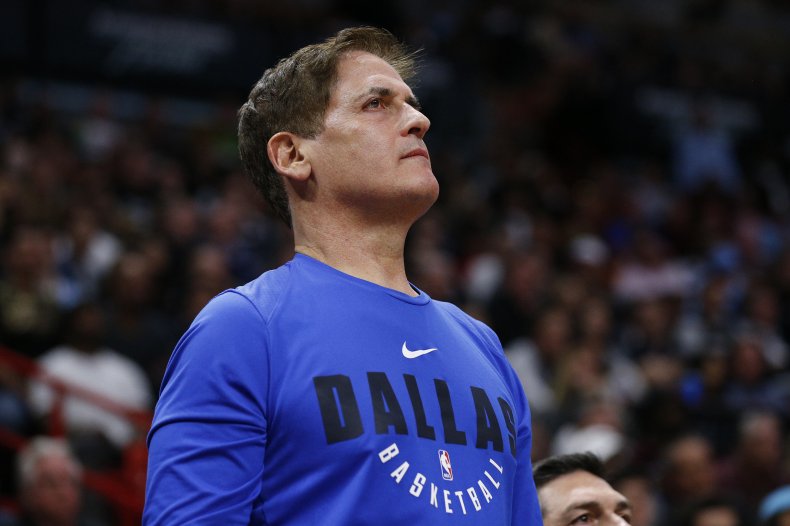 Cuban elaborated in a follow-up tweet to Davis, saying that the "National Anthem Police" in the United States are out of control. "If you want to complain, complain to your boss and ask why they don't play the National Anthem every day before you start work," he wrote.
Kneeling before a sporting event has been adopted internationally as a peaceful protest against racial injustice and police brutality. Cuban previously said on June 18, during an interview with ESPN's Outside the Lines, that he would "hopefully" kneel with the Mavericks, and show solidarity with whatever action they take to protest systemic racism. "I'll stand in unison with our players, whatever they choose to do," he said at the time.
The same day that Cuban slammed Davis on Twitter, the team owner appeared on a Sunday night Fox News special called Fight For America, which focused on race relations in the United States. "This is important to our players and important to the fans, but most importantly it's important to the United States of America that we address these sensitive issues and try to help end systemic racism," Cuban told former NFL running back Herschel Walker.
He also argued for the importance of the Black Lives Matter movement. "Every life matters but when someone is in trouble you address them first. The Black community has had issues and I think, you know, systemic racism has been here for generations and it's not going away unless we do something about it."
As of now, the 2019-2020 NBA season is scheduled to resume on July 30, at a so-called "bubble site" in Orlando's Disney World.