The Viral Mark Cuban-Ted Cruz Fight Over China, the National Anthem and More, Explained
Texas Senator Ted Cruz and Dallas Mavericks owner Mark Cuban got into a heated social-media spat on Monday, all because of a screenshot of a one-word tweet responding to a radio personality. On Monday, Cruz claimed on Twitter that the National Basketball Association is "telling everyone who stands for the flag, who honors our cops and our veterans, to 'piss off.'" He was commenting on another tweet, sent out by Cuban on Sunday night.
The tweet Cuban sent out that started this whole mess just featured the single word "Bye," in response to Dallas area AM talk radio host Mark Davis, who tweeted on Sunday, "the minute one player kneels during the anthem, I am OUT." Davis was anticipating that some NBA players might peacefully protest by taking a knee during the national anthem, when the 2019-2020 NBA season resumes in Orlando, Florida, near the end of this month.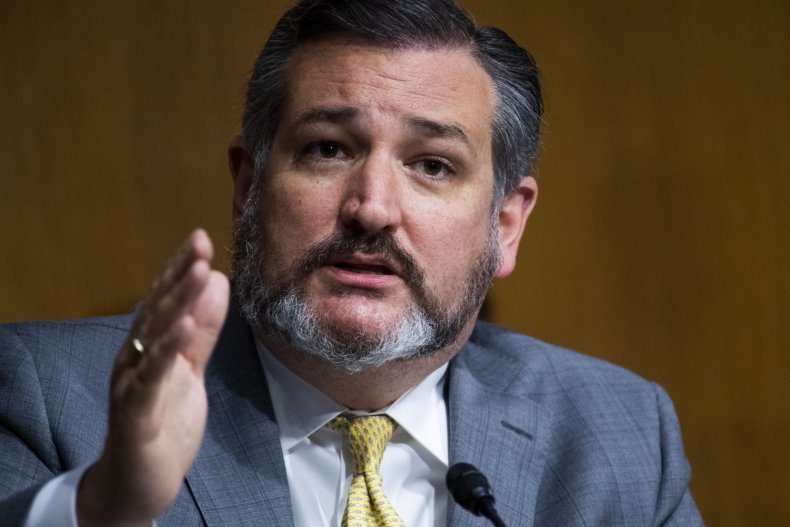 "The National Anthem Police in this country are out of control," Cuban said in a Sunday tweet, responding to Davis and alluding to ongoing Republican objections to protests during the national anthem at sports events. "If you want to complain, complain to your boss and ask why they don't play the National Anthem every day before you start work."
Cruz has previously described kneeling protests as disrespectful to military and law enforcement, a belief reiterated in his Monday tweet responding to Cuban:
The act of kneeling during "The Star-Spangled Banner" as a way to protest police brutality and racial injustice has been making headlines since 2016, when then-San Francisco 49ers quarterback Colin Kaepernick first decided to take a knee at the start of NFL games.
"I am not going to stand up to show pride in a flag for a country that oppresses black people and people of color," Kaepernick said in 2016 in a post-game interview. "To me, this is bigger than football and it would be selfish on my part to look the other way. There are bodies in the street and people getting paid leave and getting away with murder."
After Kaepernick kneeled during the national anthem throughout that NFL season, no team re-signed him. He hasn't played professional football since. His protest became more widespread in 2017, after President Donald Trump argued that protesting players should be fired.
While the protest was against police brutality, Republican politicians and pundits have repeatedly described the act as players protesting the national anthem and the flag itself.
Cuban and Cruz' disagreement over protests made during the national anthem spun off into something more after Cuban called for Cruz to "have some balls for once."
In response, Cruz sarcastically called Cuban a "tough guy" and changed the subject to China, with a litany of questions like whether players can have the words "Free Hong Kong" on their jerseys. Senator Cruz further challenged the Shark Tank TV personality to condemn the Chinese internment of hundreds of thousands of Uighurs—a Muslim ethnic minority group predominantly centered in northwest China.
According to the New York Times, relations between the NBA and China have been rocky since October, when Houston Rockets general manager Daryl Morey shared an image in support of protestors in Hong Kong, who objected to a bill which would have enabled extradition from the special administrative region to mainland China, curtailing Hong Kong's autonomy. After a backlash from Chinese sponsors, Morey deleted the tweet and issued an apology, setting off an ongoing debate surrounding U.S. companies bowing to criticism from China.
"I can say Black Lives Matter. I can say there is systemic racism in this country. I can say there is a Pandemic that you have done little to end," Cuban tweeted in response to Cruz. "I have never gotten involved in the domestic policies of ANY foreign country. We have too much to do here."
Cruz responded that he agreed Black Lives Matter, while raising further questions about how China responded to the pandemic. According to data gathered by Johns Hopkins University, 4,644 people died of the coronavirus COVID-19 in China, while more than 140,000 people have so far died in the United States as a result of the pandemic.
Contacted by Newsweek, Cuban had nothing further to add to his back and forth with Cruz. A request for comment was also sent to the senator's office, but Newsweek received no response in time for publication.