Since murdering John Lennon on December 8, 1980, Mark David Chapman has spent every minuted locked up. Though he's been up for parole every two years after the first 20 years that he served, he's been denied each of the eleven times. He's next due for a hearing in August of 2022, when he will be 67 years old.
Immediately after firing five hollow point bullets at Lennon (with four hitting him in the back) from a .38 Special revolver, Chapman remained on the scene, where police took him into custody without incident. As police approached him, he was reading J.D. Salinger's novel The Catcher in the Rye, which he referred to as his manifesto.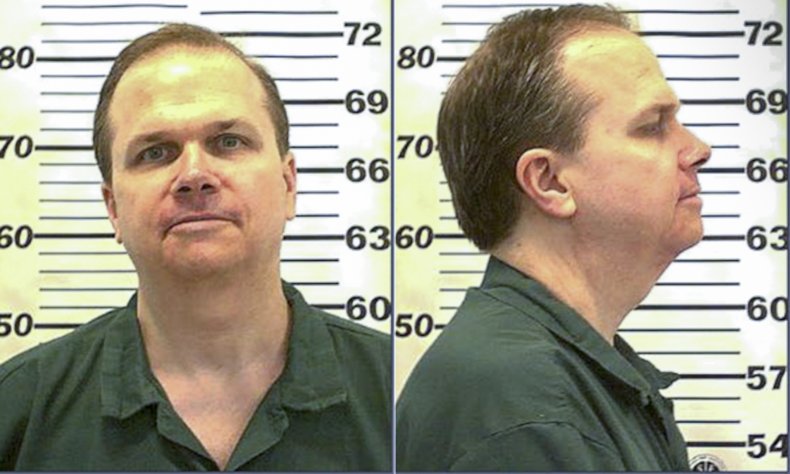 Though Chapman had been a Beatles fan, he said he had been angered by what he deemed a hedonistic lifestyle led by Lennon, as well as the infamous remark the singer once made about his former band being "more popular than Jesus" and writing songs promoting atheism. Chapman was a born-again Christian, which is also why he asked his legal team to drop the insanity defense they worked on before his trial for the killing. Instead, he pled guilty, citing the will of God as his motivation and not the delusional psychotic fandom often attached to the crime.
The judge sentenced him to prison for a term of 20 years to life, and in 1981, he was imprisoned at New York's Attica Correctional Facility. There, he was placed in a special unit for violent and at-risk prisoners, though he spent much of his days working as a legal clerk and kitchen helper or in the library.
Chapman initially turned down press interviews until agreeing to talk with People magazine in 1987. He briefly returned to the public's eye in 1992 when reporter Jack Jones published a book based on audiotape interviews with Chapman, called Let Me Take You Down: Inside the Mind of Mark David Chapman. That same year, Barbara Walters interviewed him on ABC's 20/20, as did Larry King on his CNN show.
Chapman also consented to telling his story via tape for CourtTV's Mugshots in 2000, before his first parole hearing. These interviews proved costly to Chapman, as the parole board in 2000 cited his perceived efforts at maintaining his notoriety for murdering Lennon as one of the reasons he would not be freed. (Ono had also written the board a personal letter asking for him not to be granted release.)
As for his life in recent years, Chapman is currently allowed one conjugal visit a year with his wife, which grants him up to 48 hours alone with her in a prison home. In 2012, he was transferred to the Wende Correctional Facility in Alden, New York, not far from his previous residence at Attica.
When discussing with his 2004 parole board what he would do if he were to ever be released, Chapman said he would like to travel around the country, visiting churches to tell his story of what he'd done and how Christ had forgiven him. He also mentioned he'd considered working on a farm or returning to his previous work as a printer.
Of course, for most people around the world, he will only be known for that one night in December nearly 40 years ago. As a sign of his enduring infamy, two movies based on Chapman shooting Lennon came out in 2006 alone: The Killing of John Lennon and Chapter 27, the latter starring Jared Leto as the gunman.